It certainly was the best of times for Charles Dickens but it was undoubtedly the worst of times for others. In his second film as director, Ralph Fiennes has conjured up a film of depth, elegance and meticulous design.
Set in the 1850's, The Invisible Woman follows the story of Ellen Ternan (Felicity Jones), a young actress who begins a complex and dubious relationship with prodigious British author Charles Dickens (Ralph Fiennes). But as their relationship develops, so do the consequences, which involve a life of secrecy and invisibility for Ellen.
The Invisible Woman is outstanding. Fiennes has hit the mark in comparison to his directorial debut with the rather disappointing Coriolanus.  The film succeeds in both brilliant performances and mesmerizing technical composition. The chemistry between Fiennes and Jones gives their time together an aura of authenticity and passion. In her individual scenes, Jones delivers an emotionally rich performance, expressing the rather bleak life she lived while under Dickens' charm. Fiennes is expectantly terrific as Dickens while Kristin Scott Thomas is also compelling as Ellen's protective mother. Michael O'Connor's costume design is faultless while Fiennes and cinematographer, Rob Hardy, subtly and effectively utilise Maria Djurkovic's inch-perfect production design to recreate the film's Mid-Victorian setting. The film's tone is quite dark, especially for a film about a love affair. Dickens' journey through a poverty-stricken alleyway further suggests that this was a time of great despair for many. However, this is certainly not a major focus in the storyline but does set a clear picture to the audience of what life was like outside of Dickens' wealthy bubble.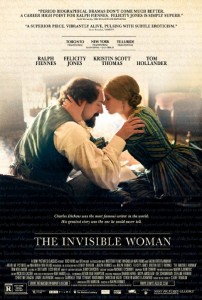 Abi Morgan's eloquent script adapted from Claire Tomalin's book of the same name is one of the main highlights of the film. The formal English is a joy to listen to and complements the terrific acting performances of the lead characters. The film's constant transition from the present to Ellen's remorseful memories of her relationship with Dickens works effectively. This gives Jones a steady platform to highlight her characters regretful past while also emphasising her grieving present. The film also proposes a very interesting viewpoint on Dickens, especially in the way that he required the attention and admiration of his fans while also simultaneously being a kind and caring man with a burning desire for love.
The Invisible Woman has certainly shown what Fiennes is capable of as a director. The film's tedious pace is sure to divide audiences; however, fans of Fiennes and Dickens will find it hard not to be immersed by this stunning period drama.
The Invisible Woman is in Australian cinemas from 17 April through Hopscotch Films.