Divergent, directed by Neil Burger and with a screenplay written by Evan Daugherty and Vanessa Taylor, continues the recent influx of big budget film franchises based on young adult novels. Its similarities to The Hunger Games will inevitably inspire comparisons. Dystopian future setting? Check. Young, strong-willed heroine? Check. Serious government issues? Check. Sequels already lined up? Check. And like The Hunger Games it features a captivating lead performance and has its fair share of thrills. However, it lacks a raw sense of urgency overall, and its screenplay needed more nuance and depth.
The film is set in a future where society has been divided up into factions based on personality traits: Abnegation (selfless), Amity (peaceful), Candor (honest), Erudite (intelligent) and Dauntless (brave). At the age of sixteen, each citizen formally chooses which faction they would like to belong to, with the help of an aptitude test beforehand. Beatrice 'Tris' Prior (Shailene Woodley) undergoes the test but her results are inconclusive, and she is labelled as 'divergent', someone with a multi-faceted identity and thus poses a threat to a stable society. She struggles to keep her identity secret in her chosen faction, raising the suspicions of brutal trainer Eric (Jai Courtney) but befriending fellow trainer Four (Theo James). Meanwhile, Jeanine Matthews (Kate Winslet), leader of the Erudite faction, is on the lookout for divergents for a sinister political agenda.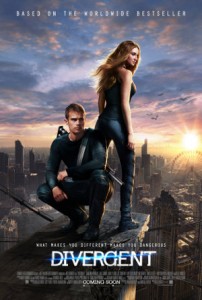 Woodley puts in a strong central performance; she brings a natural ease to the screen, exuding a steady quiet determination that makes her personal transformation believable. However, the script feels a little clunky, not allowing other characters to be fleshed out with the same subtlety or depth. Throughout the film, James' Four is mysterious and brooding and Courtney's Eric is ruthless and sadistic, whilst Winslet is perhaps not edgy enough for Jeanine's insistently foreboding vibe. The idea that every person in society has a single dominant personality trait that defines them, and that they should subscribe to, is also a little contrived, created as if to demonstrate that these categories are too artificial and arbitrary and that, in the end, everyone is 'divergent' – an individual. Nevertheless there are some interesting issues that the film raises about the nature of political rule, and what sorts of qualities are most needed to govern.
Unsurprisingly, given that the film is the first in a trilogy, much time is spent on Tris' efforts to gain acceptance into her new faction whilst harbouring her divergent identity. In the end, however, this allows the film to rely too heavily on formulaic plot devices and unsubtle dialogue, rendering Divergent a somewhat thrilling but unextraordinary start to the franchise.
Divergent is in Australian cinemas from 10 April through Entertainment One.