Once upon a time, as an adult, one would have been judged and potentially scoffed at for going to see a kids movie without taking kids, but for a long time now kids movies have been moving out of the domain of "just for kids" and into new territory, which can be appreciated and even enjoyed by us old folk. Invented in 1949 by those genius Danes, the building bricks have been a staple of every good toy collection for decades. With so much history, there are a multitude of jokes and iconography to build a great film series on, and boy have Warner Bros. started with a bang.
Emmet (Chris Pratt) is your average, every day construction worker, following the manual and going about life in the appropriate way until he meets Wyldstyle (Elizabeth Banks), a master builder who is looking for the prophesised piece of resistance that will save Lego-kind from The Kragle, a powerful weapon being wielded by the all powerful ruler of Legoland, President Buisness (Will Ferrell). Unwittingly, Emmet finds the piece of resistance first and is mistaken for The Special, the prophesised saviour of Lego-kind.
Featuring many key players of the Lego Universe, including Benny (Charlie Day) the 1980s astronaut obsessed with building a spaceship, Princess Unikitty (Alison Brie) the unicorn, kitted hybrid who is sweet as chocolate and a little bit insane, and Batman (Will Arnett), who band together to help Emmet realise his master building potential and save Lego-Kind from the Kragle, President Business and Good-Cop/Bad-Cop (Liam Neeson), a mini-figurine with a double-sided head who switched between good and evil with dramatic affect.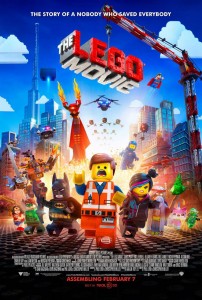 There are many, many building and character puns that ensue, and many who have dabbled in the world of small colourful bricks and little yellow people will get a real kick out of some familiar sites and themes. The animation is exquisite, fast paced, colourful, and the characters move with such believability that it sometimes seems like stop motion, our local Aussie animators are really showing the rest of the world a thing or two about the medium. The premise of the film is as suitable as it is ironic and the main theme song "Everything is Awesome", while initially annoying, is catchy and fun and will be stuck in your head for days. Quotable, fun and a little bit nostalgic, this is one worth seeing with or without the kids.
The Lego Movie is in Australian cinemas from 3 April through Roadshow Films.