Films with excessive levels of violence are rarely as thrilling and engaging as The Raid 2, an Indonesian film written and directed by Gareth Evans. Continuing with the bloodshed that dominated The Raid (also helmed by Evans), the film is a more mature directorial effort, with more time to develop plot and character arcs and with a more distinct visual style. However, the film ultimately delivers on its main selling point – scene after scene of overwhelmingly bloody violence.
Rama (Iko Uwais) is still reeling from barely escaping from raid on a local criminal's 30-storey fortress in the first film. However, that was just the tip of the iceberg. Rama has put himself on the radar of the entire Jakartan criminal underworld, which is managed by a precarious truce between Bangun (Tio Pakusadewo) and a Japanese family clan. In order to ensure his family's long-term protection, Rama must go undercover and destabilize the Jakartan underworld from the inside. He lands himself in jail, befriends Uco (Arifin Putra), Bangun's son and heir to his criminal empire, and entrenches himself deep in Jakarta's seedy underbelly. However, an up-and-comer named Bejo (Alex Abbad) threatens this balance of power over Jakarta, and his ambitions start a chain reaction that leads to absolute carnage.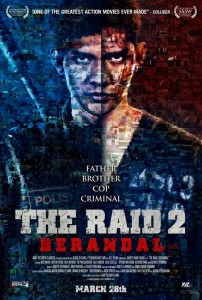 The action is bloody and ultra-violent, but if you can handle it, it is gloriously indulgent in its excess. The scenes are extremely well choreographed – they are relentless, exhilarating and draining to behold. The crisp sounds of bones being broken, limbs twisted out of shape and the agonizing moans from the countless fatalities only make the action more cringe-inducing. At almost two-and-a-half hours the film is a little long, but it is hard to look away from the absorbingly breathtaking skill on display.
However, the film is not merely an exercise in repetitive scenes of violence, which can lose their impact and become numbing. Evans has devoted considerably more time to narrative and character development (not too hard though, when the first film had its entire backstory crammed into the first five or so minutes). It is solidly acted, with Uwais infusing his performance with a weary endurance, and Putra quietly intense in his restlessness. Evans displays a confident patience in these quieter scenes that is engaging, and the story of warring criminal factions and insatiable ambition helps give this film a much-needed balance between raw ferocity and involving drama. Moreover, Evans has developed a more distinct visual style. The cinematography is consistently striking, filled with fascinating shot selections and a sleek colour palette.
Ultimately, The Raid 2 is a strong, progressive directorial effort from Evans, and it succeeds as both an inexorably violent action film and a solidly executed criminal drama.
The Raid 2 is in Australian cinemas from 27 March March through Madman Films.