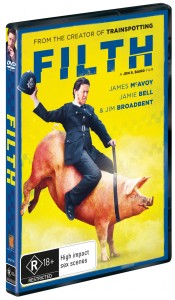 Courtesy of Icon Films, Film Blerg is giving away 3 DVDs of FILTH, available to own from April 4. 

Film Synopsis: A bipolar, bigoted, junkie cop (James McAvoy in a stand out performance) manipulates and hallucinates his way through the festive season in a bid to secure a promotion. Irvine Welsh's novel, Trainspotting, redefined indie films and kicked off a series of other film adaptions of his novels. FILTH out-sold the mega-successful Trainspotting in print and is now the latest Welsh story to be portrayed on the big screen.
How to win:
Visit our Facebook page and hit the "SHARE" button on the FILTH status.
Write "Win a DVD of James McAvoy in FILTH on DVD" in the write something section.
Send your name and address to giveaways@filmblerg.com with FILTH in the subject.
Competition opens 9am AEST Monday 24th March, 2014 and closes 5pm AEST Friday 28th March, 2014.
Terms and conditions
Passes are eligible only to Australian residents.
Film Blerg and the Icon Films cannot be held accountable for any delay or loss of prizes.
You must follow Film Blerg on Facebook or Twitter to be eligible.
Any information sent remains confidential.