Lars Von Trier has always lived a bit on the edge, pushing boundaries wherever he could and coming up with some priceless foibles when left unattended in front of a microphone, so why should his film Nymphomaniac, all about the final frontiers of se, be any different?
Joe (Charlotte Gainsbourg) is found unconscious in an alleyway by well intentioned, a-sexual Seligman (Stellan Skarsgård) who takes her back to his humble home to clean up and rest. Joe believes she is unworthy of care and affection and decides to tell Seligman all the details of her sordid life as a sex crazed she-demon which make her an unworthy human.
Broken into chapters inspired by the few items in Seligman's room, Joe starts at the very beginning, when she was 2 years old and first became sexually aware (and that's just the beginning). Vol. 1 is a bit like foreplay, we get to know Joe as she becomes more sexually experienced and callous toward (many, many) men, feeling around in this brave new world, however the chapters build with no real climax. Save for a priceless scene with a surprisingly domestic Uma Thurman playing the mental guilt trip on young home-wrecking Joe, and the husband who has left a wife and 3 children for the promise of sex and love.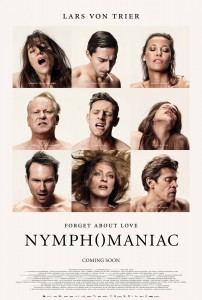 All the while, as Joe throws every depraved story in her arsenal at Seligman, and every sad thought of being used as an object and wanting to be nothing more than an object, Seligman relates her tales of stalking for prey to fishing, and finds interesting, coincidental mathematical equations that appear in her stories, such as Fibonacci sequences and Pythagoras theorem. Vol. 1 sizzles to a close with the loss of Joe's orgasm, Vol. 2 is the battle to get it back. Joe is living in domestic bliss with the love of her life, but he feels detached from her, he can't please her and it drains him. Seeking new experiences in order to realise her orgasm again she visits K (Jamie Bell), a sadomasochist who receives women to his quarters, and beats them. What he gets out of these relationships is unclear, but this chapter, "The Eastern and the Western Church (The Silent Duck)" is a tipping point for Joe. The lengths to which she goes to to feel something are extraordinary and the parallels between nymphomania and other addictions becomes clear; her body is a mess, she is in constant physical pain, she destroys relationships with loved ones and becomes unduly attached (one might even say obsessed) with getting that next high. To say she thus spirals out of control is an understatement and the extraordinary affect of repeated bodily abuse is vivid and uncomfortable; much as Hitchcock could have been said to have a sadomasochistic relationship with his blondes, Von Trier could be said to feel that same lurid animosity toward the female reproductive system (see also Antichrist).
The final chapter "The Gun" leads the film to a disturbing and abrupt ending in a bizarre twist of betrayal and lust. Gainsbourg is disarmingly mundane as the poetically apathetic and morbidly narcissistic Joe however her younger self, played by Stacy Martin, in her film debut, is the stand out of the film; charming, malicious and inexplicably engaging. Christian Slater deals out a surprisingly enigmatic, mystical father figure like he was never a murderous teen heart-throb or vampire groupie.
At times Vol. 1 is poetic and beautiful and at others just down right funny, but Vol. 2 is a disturbing glimpse at addiction and the havoc is wreaks on lives. Viewed together the film is long and quite draining, for it's subject matter takes audiences on an uncomfortable ride, made all the more bizarre by dispersals of witty humour, it is, after all, a Lars Von Trier film.
Nymphomaniac is in Australian cinemas from 20 March through Transmission Films.