Hearing that the usually reliable Aaron Eckhart and Bill Nighy would be heading a mainly local cast in a reimagining of the classic Mary Shelley tale Frankenstein, one would be forgiven for getting unduly excited. Add to that the fact that I, Frankenstein was filmed right in the heart of Melbourne, using many of our iconic buildings as the gothic backdrop to the story and you may even jump up and down and do a little dance. Well stop it, because I, Frankenstein is nothing to write home about.
The usual aspects of the familiar tale are skipped through with Eckhart's formidable voice-over, detailing his violent resurrection as the Monster, and his relentless pursuit to make Doctor Frankenstein for forcing him back into the world. However the story takes an unexpected twist when some demons come looking for him and he manages to vanquish them, to the surprise of some nearby gargoyles. Yep, you heard me, gargoyles. Where Tommy Wirkola's Hansel and Gretel: Witch-Hunters turned a classic fairytale on it's head, following the ill-fated siblings after their escape from the gingerbread house and further running with the whole witch theme, making it into a well rounded, B-grade horror gore fest with inventive weaponry and cheesy, badass one liners, Stuart Beattie turns Frankenstein's life post novel into a lame, underworld battle between good and evil, preaching some religious crap about God's will and the importance of having a soul.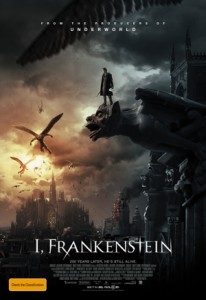 There is not nearly enough well choreographed hand to hand combat, which you imagine there would be as the film boils down to a medieval style battle between demons and gargoyles, and there is way too much shoddy CGI. Frankenstein's journey to discover his purpose on Earth is shallow and unengaging. The most entertaining this about the film was finally getting to see the inside of the old Manchester Unity building on Elizabeth Street and the fact that NGV International on St Kilda Road was featured in the film with a neon sign above the water wall saying Central Station.
Bill Nighy is brilliant as usual but is too charming to be a sinister prince of darkness; he should have run with his natural rock star qualities and played the demon leader Mick Jagger, or left his swagger at the door and tuned his voice down half an octave. Miranda Otto was wasted on the role of Gargoyle high priestess Leonore, and her boredom with the whole thing was evident.
If you must see this film please go on a cheap day so as not to waste your money.
NB. I met Bill Nighy while he was down here shooting the film (he came into my store and I helped him shop for "pants"), and he raved about how nice everyone was and how much fin they were all having on set, and filming in Melbourne was a pleasure etc. None of this came through in the film, however he is a lovely fellow.
I, Frankenstein is in Australian cinemas from 20 March through Entertainment One.