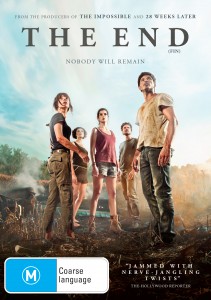 Courtesy of Icon Films, Film Blerg is giving away 3 DVDs of THE END, available to own from March 12. 

Film Synopsis: The End is a catastrophic doomsday thriller about a group of old friends who get together for a reunion weekend in a mountain cabin. It seems the perfect getaway, but lurking behind the laughter and stories is a murky episode from the past that continues to haunt them. A strange, sudden incident alters their plans, leaving them stranded with no line of communication to the outside world. When one of the group suddenly goes missing, the panic sets in and they begin to discover steadily more disturbing scenes: deserted houses, abandoned cars and terrifying stampedes. On their way for help, the group starts to disintegrate, just as a new natural order is unveiled before their astonished eyes.
How to win:
Visit our Facebook page and hit the "SHARE" button on the FIN (THE END) status.
Write "Win a copy of the doomsday thriller FIN (THE END) on DVD" in the write something section.
Send your name and address to giveaways@filmblerg.com with FIN (THE END) in the subject.
Competition opens 9am AEST Monday 10th March, 2014 and closes 5pm AEST Friday 14th March, 2014.
Terms and conditions
Passes are eligible only to Australian residents.
Film Blerg and the Icon Films cannot be held accountable for any delay or loss of prizes.
You must follow Film Blerg on Facebook or Twitter to be eligible.
Any information sent remains confidential.