There's a moment in The Armstrong Lie where you can't help but root for Lance Armstrong. You know he is a drug cheat. You know he is a compulsive liar. And you know that his dishonesty has ruined peoples' lives. But you nevertheless can't help but get soaked up in the atmosphere of the Tour De France, the story of a man defying his critics, and the beautiful yet tragic myth of Lance Armstrong.
That a film that highlights so many faults with Armstrong can still give the audience chills of anticipation speaks volumes about Armstrong as a person and Alex Gibney as a filmmaker. The savvy Gibney doesn't simply tell us that Armstrong deceived millions; rather, he shows us how easy it was to be fooled by the once-great cyclist.
At the time of filming, Gibney's aim was to trace Armstrong's comeback in the 2009 Tour De France, a race in which the seven-time tour winner had nothing to prove. While he was subject to some cheating accusations at the time, it was widely believed then that he was clean. The events that unfolded from 2010 to 2013 – when it became apparent that Armstrong was indeed a drug cheat – unsurprisingly gave Gibney more material, turning The Armstrong Lie into what it is today.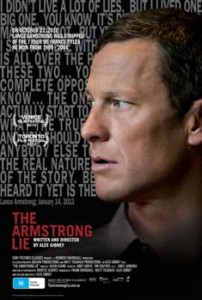 While much of the film still follows Armstrong's 2009 journey, the audience is encouraged to consider everything within the context of Armstrong's dishonesty. Gibney juxtaposes his exclusive interviews with Armstrong from both before the great revelation and afterwards. What this means is that much of the story is told directly from Armstrong's mouth, making his blatant deception all the more confronting.
While Gibney's interviews with Armstrong are the unequivocal highlight – from both a journalistic and an entertainment perspective – the film has more dimensions than that. For every high-definition close up we get of Armstrong's face – we get stunning shots of the France countryside and interviews with Armstrong's closest allies and fiercest rivals.
Whether this tale is worthy of 124 minutes worth of footage is likely to divide audiences. Those who have followed the Armstrong tale from start to finish will be impressed by Gibney's level of access to Armstrong, and may delight in every second. Audiences less familiar with Armstrong are still likely to find the documentary captivating, but may grow weary as the film – like the Tour De France – progresses from one long stage to another.
The Armstrong Lie is in selected Australian cinemas from 13 March through Sony Pictures.