Have you ever wondered about the people behind the recognizable, but faceless, voices in advertisements and film trailers? In A World, written and directed with natural flair by Lake Bell, is a hilarious and heart-warming look at a voice actor's struggle to make it in the competitive world of the voiceover industry. Superbly casted and acted across the board, Bell has written a splendid screenplay, filled with countless funny and awkward moments. In A World … is an indie gem, and a thoroughly entertaining take on an overlooked section in the world of entertainment.
Carol Solomon (Lake Bell) is a struggling voice actor, and has sunk to an all-time low trying to help Eva Longoria correct her "retarded pirate" accent for her latest role. Her father, Sam Soto (Fred Melamed), is an egotistical voiceover legend, but he is more interested in grooming his protégé Gustav Warner (Ken Marino) than being supportive of Carol's career. When her father kicks her out to make way for his new partner, she moves in with her high-strung sister Dani (Michaela Watkins) and her relaxed brother-in-law Moe (Rob Corrdry). She also works with Louis (Demetri Martin), who awkwardly tries to hide his crush on her. Through a stroke of good fortune she manages to obtain some voiceover gigs, but when renowned voice actor Don LaFontaine's famous 'In a World' introduction is to be used for new film franchise 'The Amazon Games' (an amusing reference to The Hunger Games), Carol, her father and his protégé become embroiled in a race to secure this lucrative opportunity.
The film's success must undoubtedly be attributed to Bell, who directed, wrote and stars in the main role with an unaffected ease. Her Carol is charming, energetic, determined and above all endearing. She brings an effortless humour to her performance, and it is accordingly easy to sympathize with her.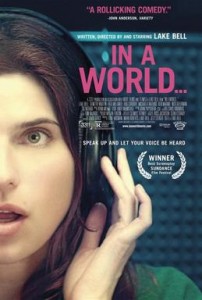 However, despite her almost complete control over the film's creative elements, Bell is extremely generous, writing a screenplay that allows each member of the talented ensemble moments to shine. It is filled with some hilarious scenes, including plenty of jokes about accents. The performances are fine throughout: Melamed is selfish but allows glimmers of self-doubt to glint through, Marino is suave whilst also being off-putting, and Martin is awkwardly charismatic. Bell also manages to blend in more serious, dramatic storylines amongst the humour. Together, the cast form a cohesive ensemble.
In A World is well-worth the look – for its impeccably timed comedic performances, its wonderful screenplay, and, on a more serious note, its comments about the lack of opportunities for women in the entertainment industry more broadly.
In A World is in Australian cinemas from 3 April through Sony Pictures. (Exclusive to Cinema Nova)