The events of September 11, 2001 sparked a sweeping overhaul in security, especially on airplanes, and since then there have been several films which focus on security breaches instigated by terrorists. Non-Stop, directed Jaume Collet-Serra with a screenplay John W. Richardson, Chris Roach and Ryan Engle, is another film which dramatizes a terrorist hijacking. It features some engaging scenes and some entertaining sequences, but overall it is generally mediocre post-9/11 action-thriller. Even though it features Liam Neeson playing another figure of law enforcement, those hoping for Taken confined to an airplane will be disappointed, as it does not have the ruthless, and often unintentionally humourous, efficiency of Taken. Instead, it lacks a sense of urgency to make it a sustained, thrilling ride, and this renders it a middling effort.
Bill Marks (Liam Neeson) is an alcoholic U.S. Air Marshall struggling to recover from the death of his young daughter. He meets Jen Summers (Julianne Moore) on a flight from New York to London and they strike a rapport. Before long, Marks begins receiving texts demanding that he arrange for millions of dollars to be sent to an account or a passenger will be killed every 20 minutes. He also realises that he is being framed as look like the culprit. He enlists air hostess Nancy (Michelle Dockery) to help him track down the terrorist, with Austin (Corey Stoll) amongst the numerous suspicious passengers. The race is on to identify the real terrorists before the murders begin.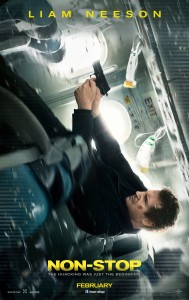 The plot becomes increasingly implausible, but somehow, despite the claustrophobic setting of the film and the accumulative effect of the implausibility, the suspense is not maintained. Suspicion moves quickly from passenger to passenger, but Collet-Serra's unsubtle direction means that these attempts at misdirection come off as a little heavy-handed, as distractions that are not to be taken seriously. There are some thrilling moments and surprises along the way, but overall the film lacks a palpable sense of tension and urgency to really involve the audience in its increasingly farfetched plot.
The performances throughout are adequate, although admittedly there is little time for protracted character development. Neeson is reliable as a man trying to hide his alcohol dependency, although again, Collet-Serra's decision to employ blurry peripheral vision to emphasize the point is probably unnecessary. But Moore demonstrates her talent in even this minor role, providing the film with its most of its moments of humours relief. She effortlessly moves between moments of friendly banter and genuine vulnerability, and she is a treat to watch.
Non-Stop is certainly not groundbreaking, and it relies too heavily on conventions and clichés to offers up much in the way of originality. There are some exciting moments and a few surprising twists, but in the end it does little to differentiate itself from other action-thriller films which dramatize the paranoia that became has become pervasive in the twenty-first century.
Non-Stop is in Australian cinemas from 27 February through Studio Canal.