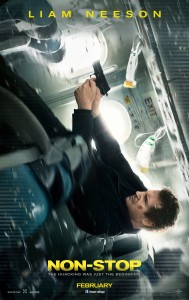 Courtesy of Studio Canal, Film Blerg is giving away 5 double passes see Liam Neeson in NON-STOP, in cinemas from February 27.
Film Synopsis: Bill Marks (Liam Neeson) is a burned-out veteran of the Air Marshals service.  He views the assignment not as a life-saving duty, but as a desk job in the sky.  However, today's flight will be no routine trip.
Shortly into the transatlantic journey from New York to London, he receives a series of mysterious text messages ordering him to have the government transfer $150 million into a secret account, or a passenger will die every 20 minutes.  What follows is a nail-biting cat and mouse game played at 40,000 feet, with the lives of 200 passengers hanging in the balance.
How to win:
Visit our Facebook page and hit the "SHARE" button on the NON-STOP status.
Write "Win tickets to see Liam Neeson in the new film NON-STOP" in the write something section.
Send your name and address to giveaways@filmblerg.com with NON-STOP in the subject.
Competition opens 9am AEST Monday 17th February, 2014 and closes 5pm AEST Friday 21st February, 2014.
Terms and conditions
Passes are eligible only to Australian residents.
Film Blerg and the Studio Canal cannot be held accountable for any delay or loss of prizes.
You must follow Film Blerg on Facebook or Twitter to be eligible.
Any information sent remains confidential.