Robert De Niro in Raging Bull. Christian Bale in The Machinist. Charlize Theron in Monster.  From as early as Frederic Marsh essaying both Dr. Jekyll and Mr. Hyde in 1931, film history is rife with actors completely altering their physical being to entirely embody the role that they're playing – whether it be through losing/gaining weight or through the use of make-up and prosthetics. In Dallas Buyer's Club, an actor's film if ever there was one, we're treated to one of each, with Matthew McConaughey little more than skin and bone for the majority of his role, and Jared Leto unrecognizable as a drag queen, both suffering from the AIDS virus. McConaughey and Leto have already won Golden Globes for Best Actor and Best Supporting Actor in a Drama (respectively), and are also nominated for Oscar's in the same categories. Regardless of whether or not they win, they more than deserve it for their work here. Fearless, brave and transformative, their portrayals cement them as some of the finest actors of their generation.
A period piece set in the eighties when real knowledge of the AIDS virus was minimal but the stigma surrounding it was huge, McConaughey plays Ron Woodroff, a redneck Texan, heterosexual sexaholic who gradually whittles down to almost nothing and finds himself in hospital being told that not only is he HIV positive, but he has a month to live. Reacting aggressively, he refuses to believe the prognosis until a mental flashback recalls a night spent having unprotected sex with a particularly grungy looking hooker. A man of action, he immediately seeks a cure for the virus but finds only treatments, which are elusive and hard to get at best. In conjunction with Rayon (Leto), who he meets in one of his (regular) hospital trips, he opens up shop running the necessary pharmaceuticals across the Mexican border to the much in need HIV positive population of Dallas  -resulting in surely one of the year's funniest scenes with McConaughey posing as a less than believable Priest. At the heart of the film is the unlikely and touching friendship between the close-minded Woodruff and the especially feminine Rayon who taunts him mercilessly.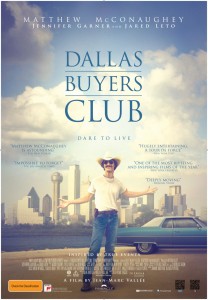 Building on a recent perfect body of work including a brilliant supporting role in Bernie, as the title character of Mud, and as the psychotic cop in Killer Joe – all of which draw on the very best of his natural charisma and persona, McConaughey has been on a role of late, and his work here feels like both a summation of the promise he's shown in those earlier films and a hint at the promise he's yet to fulfill. The sight of his emaciated frame in the opening minutes is a deeply disturbing foreshadowing of the commitment his performance realizes in the rest of the film. Jared Leto – and you wouldn't know it was Jared Leto without the credits – loses himself completely in a way that needs to be seen to be believed. Less obvious, but equally effective in more traditionally dramatic moments, is Jennifer Garner as their compassionate doctor.
Lacking the visual daring and directorial flourishes that made his previous film Café De Flore such a beautiful film (although his use of sound and editing remains effectively jarring), director Jean-Marc Vallee sticks wisely to the characters and their plight, and it's exactly this that makes the film such an unforgettably heavy but rewarding experience.
Dallas Buyers Club is in Australian cinemas from 13 February through Pinnacle Films.