Jason Reitman has an impressive resume to date and it's full of unconventional romances: America's love of smoking in Thank You for Smoking; coping with teen pregnancy in Juno; and the etiquette of frequent flyer romances in Up in the Air. They've been amusing, thought-provoking, touching and quite hard to pigeonhole. So in this sense, his latest effort, Labor Day (adapted by Reitman from Joyce Maynard's novel), is a first for him, being a straight-up drama – albeit, one with middling results.
The story is told through the eyes of Henry (Gattlin Griffith), who is days away from starting a new year of school in the seventh grade. He lives with his depressive mother Adele (Kate Winslet), who after being deserted by her husband, has slipped into crippling agoraphobia.
On a rare trip out of the house to the supermarket, they are confronted by Frank (Josh Brolin), a formidable looking bloke sporting a bleeding gash in his hip. He needs a place to hide out from the police after managing to escape from prison. Adele and Henry are hesitant in dealing with him initially, considering the intense police manhunt underway and the unfolding revelations about Frank's history. But all is not as it seems and Frank soon endears himself to this family with a father-sized hole in it.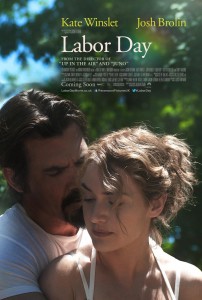 Adele's predicament is believable and delicately handled, making at least this part very touching. Eric Steelberg's effortlessly effective cinematography is also a great asset and Griffith's Henry as the focal point is dependable if a little wooden. Although, one suspects that without the transfixing presence of Kate Winslet, this would have been a whole lot worse.
I've left Frank until last because this is where it all goes pear-shaped – or rather pie-shaped. An escaped and wounded convict forcibly moves into a family home, does all their chores and seduces them with food over the space of a weekend — pull the other one.
The long, decidedly moist peach pie scene promised in the trailer is nothing if not laughable. And that poor little Henry is encouraged to join in as a third wheel with the mincing is a frankly a little awkward. Ultimately, Brolin tries admirably, but he is trapped within the confines of a character who is reduced to playing Fix-it Felix around the house, and getting kinky in the kitchen with Adele.
The final nail in the coffin is the redundant narration by Tobey Maguire (older Henry), whose voice outstayed its welcome a few minutes into The Great Gatsby. And so with little inventive or new to redeem this, I'd steer clear and hope Reitman returns to his more natural humourous talents soon.
Labor Day will be in Australian cinemas from February 6 through Paramount Pictures.