Billy (Michael Douglas), Paddy (Robert De Niro), Archie (Morgan Freeman) and Sam (Kevin Kline) are childhood friends, constantly adjusting to the fact that they're ageing. They lead separate lives across the United States, but are brought together by Billy's engagement. The lifelong bachelor has finally decided to settle down, not so surprisingly with a much younger and incredibly blonde woman, so he decides to throw an extravagant party in Las Vegas.
As you can imagine, the four main characters have very distinct and differing personalities. Archie has to sneak away from his overbearing and overprotective son to attend the festivities, Sam gets a hall pass from his wife Miriam (Joanna Gleeson), who tells him to do whatever he likes, she just doesn't want to hear about it. Paddy is a grumpy and cynical man still recovering from the death of his wife years before and has to be coerced out of his house to attend the party and Billy, well, his ever stretched and tanned skin indicates he still feels like a young man at heart.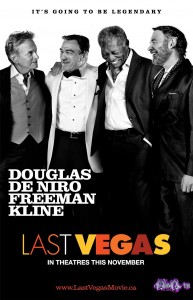 As you can imagine, when they get to Vegas they are surrounded by extravagance and luxury. Billy is a very wealthy man, but even considering that you'll still have to suspend a lot of disbelief. Director Jon Turteltaub (Phenomenon, National Treasure) and writer Dan Fogelman (Crazy, Stupid, Love) have effectively set up Last Vegas as The Hangover (2009) for geriatrics. That's not to say there are no laughs, but when they do come they're fairly predictable and not long lasting. The main actors do work very well together, but the glue that really holds this film together is Diana (Mary Steenburgen), a lounge singer the men meet shortly after their arrival. She is glamorous and mysterious and more than one of the friends take a fancy to her.
There is nothing new or original here, the film is jam packed with age jokes with the main characters striving to be as young and hip as possible. However the leads do save the mediocre story with their charisma and compatibility. You know what you're getting with Last Vegas and if you don't take it too seriously you're in for a light hearted and enjoyable experience.
Last Vegas is in Australian cinemas from 6 February through Universal Pictures.