Asghar Farhadi's highly anticipated follow up to 2011's A Separation is another portrait of complex family life, this time in Paris. Ahmad (Ali Mosaffa) returns to the country from Iran after leaving his wife Marie (Berenice Bejo) and her children, to be confronted with both settling a divorce and her new relationship with Samir (Tahar Rahim).
Ahmad's visit should have been straightforward, arrive in Paris, sign divorce papers and be on his way with relatively little drama. This is soon heavily complicated by the strained relationship between Marie and her daughter Lucie (Pauline Burlet). Their history is severely layered and seeing as Ahmed has always had a loving relationship with Lucie, Marie asks him to get to the bottom of her behaviour.
Complicating the situation even more is Samir and his young son Fouad (an excellent performance by Elyes Aguis) are living in Marie's house, as the couple are planning to marry. However Samir's wife lies in the hospital, comatose after a suicide attempt. Once again Farhadi shows us he is a master of making high-tension stories centered around domestic drama. To delve any deeper into the plot would be a disservice to the intricate film he has written and put together.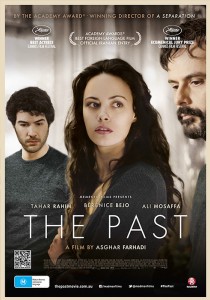 Guilt and responsibility are key themes in this exploration of the lives of ordinary people, each revelation deepening the relationships between the central characters, threatening to either tear them apart or bring them closer together. Slowly layer after layer of the story is uncovered and everyone is affected.
There are no easy answers and like always, Farhadi always presents his characters in an objective light. He isn't there to judge them, you can make your mind up on that. This film will be easier to decipher and fully comprehend on a second viewing, while it is hard to miss some of the key plot points, as a spectator you need to be completely active as some of the intricacies are much more subtle. No stone remains unturned and once again Farhadi's meticulous nature makes for incredibly rich cinema.
There is no doubt that the pressure was on Farhadi after the success of A Separation, and while it might not entirely live up to its predecessor, this is a beautifully choreographed film, filled with wonderful performances. Generating endless emotion from both its characters and audience, The Past will leave you considering your own actions and lives.
The Past is in Australian cinemas from 6 February through Madman Films.