There have been many films about soldiers and war, but few quite as brutally visceral and arduous as Lone Survivor, directed and with a screenplay by Peter Berg. Based on a book of real-life experiences by Marcus Luttrell, the film focusses on his involvement in a Navy SEAL team's operation in Afghanistan in 2005, and how it all was compromised and eventually fell apart into violent chaos. The action sequences are engrossing and thrilling, even unnerving at times, depicting the strenuous lengths that these soldiers go to in order to suppress pain and cling onto the will to survive.
Michael Murphy (Taylor Kitsch) is the leader of a team of Navy SEALs, comprised of Luttrell (Mark Wahlberg), Danny Dietz (Emile Hirsch) and Matthew Axelson (Ben Foster). They are chosen to embark on a mission to kill a Taliban leader in an isolated desolate region of Afghanistan, and they are dropped off on a steep hillside. Three goat herders stumble across their camouflaged hideout amongst the trees, and after a debate about what to do with them their mission becomes a violent, desperate battle to survive as they are cornered and hunted down.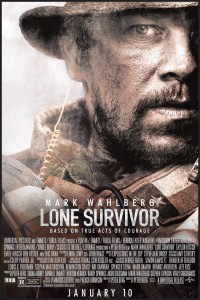 The film opens with actual footage of the intense, gruelling training that Navy SEALs undergo to build their mental and physical fortitude, overcoming pain barriers and attaining new realms of endurance. Not surprisingly, the film's primary focus is on intense action sequences, where this training manifests itself. These sequences are impressively executed and edited – they are aggressive, frantic, breathless, harrowing. And importantly, despite the prolific use of a shaky camera, they are not disjointed or disorienting. The sound of hammering bullets and explosives is also crisp, perfectly complementing the sheer force and impact of the visuals. Together, they constitute an almost relentless assault on the senses.
The performances are also fine throughout, each invested with a committed physicality. And despite the requisite testosterone-filled competitive banter and heavy doses of patriotism, time is still taken to provide insights into the lives they lead elsewhere and to the bonds they have developed as a team. This bond is ultimately what invokes our sympathy, and together they manage to find nuances in their characters and their relationships.
Lone Survivor is certainly not an exercise in subtlety, and it can be heavy-handed in handling its themes of courage and brotherhood. But despite its flaws, the strength of the action sequences arguably supersedes these other concerns, almost stifling you with their brutal, gasping intensity. It is a thrilling ride, and ultimately a moving dedication to the soldiers involved in this mission and many others like them.
Lone Survivor is in Australian cinemas from 20 February through Disney.