Greed, power games, drugs and New York financial corruption in the 80s. No this is not Wall Street, but simply another Scorsese take on retro fast-paced living. And like Goodfellas, Casino, Raging Bull and The Departed, all good things must come gloriously crashing down.
Jordan Belfort (Leonardo DiCaprio) is a stockbroker. Well, that's putting it mildly. Conning people into buying shitty stocks and making a mint in the process is Jordan's game. He can sell anything. David Mamet's speeches in Glengarry Glen Ross have nothing on Jordan's charismatic ability to sell ice to an Inuit. The ascent of Jordan's power and wealth from humble beginnings and big dreams is quick, but as fate (and any film about a conman) would tell us, it's only a matter of time before the descent plagues the hero.
Teaming screenwriter Terrence Winter with Martin Scorsese works tremendously well with an erratic energy, fueled by fast cameras and quick dialogue, setting the pace with scenes filled with a lot of cocaine, pills, alcohol, swearing and talking. There's a lot of talking and swearing in this film with estimates of over 500 uses of the word 'fuck'.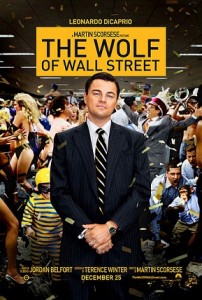 Similar to the story of Steven Jay Russell in I Love You Phillip Morris, you'd be fair to say that the story seems too outrageous to be true. In parts, of course, it is too outrageous to be true and has been pulled by the dramatic strings of wow filmmaking.
Heightened and quick energy helps speed the film through its 3-hour running time. Many scenes felt like an appropriate place to end, but the story had not quite finished. This is not exactly uncommon
Leonardo DiCaprio has never been as rabid and primal as Jordan Belfort, giving a performance that deserves attention, but is by no means a meditation in effective, subtle acting. Jonah Hill plays the bumbling fool/side-kick amidst the drama and comedy, and does remind us that he is more than a one-trick pony. Newcomer Margot Robbie holds her sassy own well playing opposite DiCaprio, reminding us of the scenes between Robert De Niro and Cathy Moriarty in Raging Bull (though much more sexually explicit). And Matthew McConaughey steals just a couple of scenes with animal displays that remind us that we are really watching the "Wolves" of Wall Street.
There is no doubt that the film has flaws. Its manic energy quite often repels the audience from effectively connecting with the protagonist. The depiction of women is problematic too, though this could be cited back to issues with the oftentimes unlikeable and derogated protagonist (though it is Scorsese with the camera in hand and the many vaginas in view).
The Wolf of Wall Street sees drug addiction, greed, sex and ambition as carnal desires. Led by primal acts, Bahktin/carnivalesque displays of gargantuan and debauched excess reign supreme over the rest of the film. Scorsese's depiction of an American dream taken too far is both entertaining and appropriately disturbing.
The Wolf of Wall Street is in Australian cinemas from 23 January through Roadshow Films.