The Wind Rises, written and directed by renowned Japanese animated film director Hazao Miyazaki, will be his final film. Known for creating colourful, vivid excursions into the imagination, seen in such beloved Miyazaki films as Spirited Away, Howl's Moving Castle and Ponyo, The Wind Rises is a less fantastical addition to his filmography. Nevertheless the film contains memorable imagery and some soaring sequences. The film focuses on the life of engineer Jiro Horikoshi, who designed many of the aircraft used by Japan in WWII. It also provides some fascinating insights into Japanese life between the wars, whilst also touching on the conflicting tension that can arise between pursuing one's dreams and the constraints of pragmatic reality.
The film begins with Jiro (Hideaki Anno) as a small child, who emerges from a dream to realize that he wants to be an aeronautical engineer. He grows up and heads to university, but not before a massive earthquake hits (the Great Kanto Earthquake of 1923), and he meets Naoko Satomi (Miori Takimoto), who becomes a love interest throughout the film. He befriends Honjo (Hidetoshi Nishijima) when he begins working at an airplane manufacturer, which is managed by the temperamental Kurokawa (Masahiko Nishimura). He subsequently spends his time working on improving the designs of military aircraft and pursuing Naoko, the love of his life.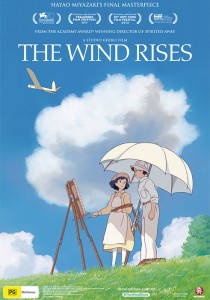 As with all Miyazaki films, the animation is superb, characterized by a bright, striking colour palette. The sound design is also commendable, adding another layer of technical vividness to the film's visual flair. The score also deserves to be mentioned, working well to complement the film's often beautiful animation. There are moments when certain plot points came across as a little stilted, but there are also several sweeping, soaring scenes – the winning combination of splendid animation and a strong sound component make the film consistently interesting.
Thematically, Miyazaki manages to deftly blend a range of ideas. Importantly, he combines the perhaps clichéd impetus to follow one's dreams with the more practical constraints that real-life hardships can impose, and this tension is explored against the historical backdrop of economic adversity and increasing political control in Japan between the two world wars. However, this tension could have been developed a further in Jiro; in his frequent dreams he recognizes the tension, but he could have been a bit more emotionally engaged and invested.
Overall, The Wind Rises is not Miyazaki's strongest film, but it nevertheless exhibits many of the qualities that demonstrate why the director has become a renowned creator of animated films.
The Wind Rises is in Australian cinemas from 27 February through Madman Films.