Following on from the likes of Harrison Ford and Ben Affleck in the role of Jack Ryan, Chris Pine has a bit of a job on his hands. Well, not a huge job. To date, this character from the Tom Clancy series hasn't quite grabbed the imagination of the public like James Bond, but in the hands of Kenneth Branagh as director, there is hope.
And yet, I have the horrible feeling that Jack Ryan: Shadow Recruit is going to get canned. It is a pity, too, because while the plot is quite simple and the acting not Oscar-worthy, it is all done in the best of fun and with some style.
It's 2001 and Jack is in college. He has a promising body of work to his name and his degree is shaping up well. But when the September 11 attacks hit, Jack drops everything to join the army. A few years later, he is forced back to base after being severely injured on a mission, and is required to learn to walk again under the guidance of soon-to-be love interest, Cathy (Keira Knightley). There, he is also spotted by CIA bigwig William Harper (Kevin Costner), opening up two doors: from here, he joins the CIA as a junior analyst and also shacks up with Cathy. And things are pretty cruisy until he uncovers what could be a plot by a Russian businessman (Kenneth Branagh) to send the US into a depression. As seemingly no-one else in the CIA understands economics (poor old Harper has no clue), it's Ryan's job to get to the bottom of things.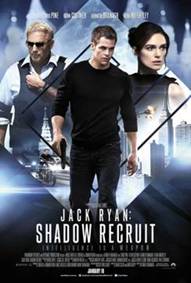 None of this is new. America and Russia's extended cinematic Cold War has been a well-trodden path for Hollywood and Moscow is much as you've seen it before, filled with snow, sinister looking gentlemen, attractive women and a good deal of Gregorian chanting. It's a wonder Russia still lets Americans film there, to be honest.
Mind you, to set this apart, Kenneth Branagh does make a great villain to counter the slightly over-smug hero. These characters would gladly coathanger each other even if they came from the same country, and watching them try to be nice is amusingly jarring. Upon meeting Ryan for the first time, Cherevin muses, 'You Americans like to think of yourselves as direct; perhaps you are just rude.'
Indeed, some patience would have been nice. The initial set-up in Adam Cozad and David Koepp's screenplay is so rushed in getting to the point that the characters miss an opportunity to be fleshed out. However, in fairness, it's a slick, rollicking popcorn movie with a far-fetched plot and a nice sense of humour, so probably best not to take it too seriously.
Jack Ryan: Shadow Recruit will be on national release from January 16 through Paramount Pictures.