Set in Edo era Japan, 47 Ronin follows a band of disgraced samurai who have been stripped of their rank following the death of their lord.  To reclaim their pride, the collective seek to murder the malevolent Lord Kira (Tadanobu Asano) who framed their kindly Lord Asano and holds his daughter captive behind a 1,000 strong army.
Leading the pack of renegades is Oishi (Hiroyuki Sanada), Asano's former number two, who vows to avenge his disgraced master.  Accompanying the 46 former samurai is the "half-breed" Kai (Keanu Reeves), a mysterious outsider, shunned by his upper classmen for his lowborn status.  Together, with a rag tag group of ageing ex-samurai, they set to bring honour back to their dead Lord through a course of magic and epic fantasy.
The mythology of the 47 Ronin is one of Japan's most beloved tales of the samurai code of honour known as bushido.  The story has been re-told countless times on stage and screen, most notably in Kenji Mizoguchi's 1941 film The 47 Ronin and Hiroshi Inagaki's 1962 epic Chushingura.  But where his predecessors' favoured introspection and realism, first time director Carl Rinsch has opted for flamboyance and fantasy, employing a host of special effects, shot in piercingly sharp 3D.  Where the classic tale of the master-less samurai is something you might read in a history book, this account is perhaps closer to how grandfathers retell the story to young children at bedtime.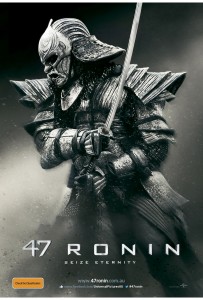 Ghosts, dragons, demons and witches roam this fantasied Japan, making full use of the modern CGI and 3D technology to create a striking and visceral experience of make-believe.  Part historical fiction, part video game, the tale of the 47 Ronin has been given the Hollywood once-over.  While story is predictable and not all together inspiring, the senses are sure set alight in this film.
Aside from the digitally enhanced elements of the picture, the cast is also fairly strong.  Sanada shows pathos and acting chops that fair exceed the boundaries of the script as the vengeful Oishi, while Asano does a fine job as the film's prime evildoer, but it is Rinko Kikuchi who plays the manipulating witch in the ear of Asano that steals the show. Creeping in-and-out of frame like a bored, but altogether vindictive house cat, Kikuchi wryly prods and pokes the characters of 47 Ronin like she's stepped out of a Brothers' Grimm fairytale.
With a budget of a whopping $175 million, the producers have really shown what is possible with modern technology in the multiplex, but as for the story itself, the report card reads a solid 'B' for effort: '47 Ronin tries very hard, but often becomes distracted'.
47 Ronin is in Australian cinemas from 16 January through Universal Pictures.