The trauma of war often lingers long after the final shots have been fired and the final battle has been won. The Railway Man, directed Jonathan Teplitzky and with a screenplay written by Frank Cottrell Boyce and Andy Paterson, is based on the autobiography of a British prisoner of war held captive by Japanese soldiers during WWII, and his long struggle to cope and eventually find forgiveness. The film takes a restrained approach to its solemn subject matter, but this enables allows Colin Firth's moving performance to shine through.
Years after World War II, Eric Lomax (Colin Firth), a former prisoner of war and a railway enthusiast, is riding on a train. There he meets Patti (Nicole Kidman) and they fall in love. However, no sooner do they get married do the memories of the pain and suffering he experienced during the war return to him. He remains staunchly distant from Patti, and so she seeks out Eric's friend and fellow survivor Finlay (Stellan Skarsgård) to find out what happened to him. Through flashbacks we learn that Eric (played by Jeremy Irvine) was tortured by his Japanese captors for secretly building a radio. Only when Finlay tells Eric that his main interrogator Takasi Nagase (Hiroyuki Sanada) is still alive does he attempt to confront his past.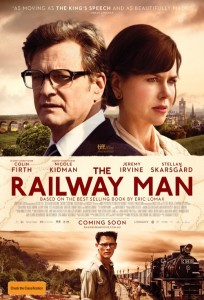 The film is restrained on several levels, but most noticeably in its unembellished, understated direction. Teplitzsky takes his time to dwell on the film's many quieter moments, infusing them with pathos and repeatedly employing close-ups to catch facial expressions and reactions. The performances are also all solid. Nicole Kidman, whilst admittedly not being given much to do, manages to find nuances in her character despite limited material. Irvine is resourceful and resilient in the face of torture, and importantly the film does not shy away from depicting brutality.
But unsurprisingly the film belongs to Firth. His performance is largely introspective, and he draws the audience in with a committed weariness and vulnerability. His eyes attempt to mask his emotional burden, but in the moments where he recalls his past the emotional strain is palpable. Firth's exchanges with Nagase are quietly intense and thrilling; he is alternately emboldened by the possibility of vengeance but also inhibited by a confusing ambivalence. Ultimately, Firth carries The Railway Man, and he makes the possibility of forgiveness in even the most difficult situations stirring.
The Railway Man is in Australian cinemas from Dec 26 through Transmission Films.