Irvine Welsh was thrust into the spotlight as a master of the ordinary macabre when his 1993 novel Trainspotting was adapted into a film directed by Danny Boyle and written by John Hodge in 1996. Known for his use of almost illegible raw Scottish dialect and characters with less than savoury habits, the latest of his creations to hit the big screen, Filth, fits the bill to a T.
Bruce Robertson (James McAvoy) is a Machiavellian, drug-addled cop who abuses his power and pines after his ex-wife. Throughout the film he enacts a series of plots against his co-workers in order to clinch a promotion to detective inspector, which he believes will bring his favour with his sexually frustrating wife. Confusing, a near psychotropic nightmare, the film plays out as a series of seemingly disjointed experiences, flash-backs and piece-to-camera exposes on how Bruce likes to get things done. The plot thickens with the racially aggravated murder of a Japanese student thrusts Bruce into his bosses lime-light, and he unwittingly steps in to try to save a mans life and sees himself in a new light.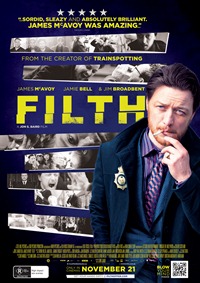 Hallucinations ensue as his doctor, slowly morphing into a pig, taunts him with jars of pills in a white room with a psychologists couch and antique furniture. Soon Bruce starts seeing people with animal heads in his day-to-day life and a freak out in Amsterdam tips him over the edge.
The premise of the film could be argued to be about the mis-treatment of mental illness and the affects of drugs, both prescription and illicit, but the films narrative is a mess, character motivation is not at all clear, and without reading the book there is little hope of understanding what exactly is going on.
That being said, McAvoy is brilliant as the confused, sexually hyperactive, psychotic bipolar cop and his break-down is not only believable as he becomes more and more, well, filthy, but also heart-felt. Despite his wrong-doings (and they are many, varied and unforgiveable), one cannot help but feel pity for the man. Imogen Poots is glorious as always as the proactive young cop in the way of Bruce's promotion, but her character is entirely unnecessary to the development of the film or the development of Bruce's character. Writer/director Jon S. Baird, whose filmography contains little of note, has created a trip worthy of Gaspar Noé, which left this reviewer feeling seedy and confused. Unless you speak fluent Scottish, read the book before seeing the film.
Filth is in Australian cinemas from 21 November through Icon Films.