A quick google search for Paul Potts will spoil the ending of One Chance for you. But even if you know the full back-story of the opera singer, this feel-good comedy still manages to hit the right notes, in more ways than one.
Set in a quaint British town, David Frankel's One Chance documents the rollercoaster journey of mobile-phone store employee and amateur opera singer Paul Potts, who aspires to one day turn his passion for singing into a career. Paul's story is like a game of plot-device bingo, featuring every cliché under the sun. His mother is supportive. His father is disappointed in him. Paul wants to make them both proud, but doesn't believe in himself. After all, his one talent has perennially got him bullied. To top it all worth, there's a woman involved.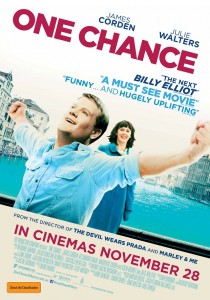 There's no question that One Chance is a predictable film, but this comes part and parcel with the real-life narrative of Potts, whose adversities and successes have evidently made him worthy of a biopic. While some events have clearly been exaggerated, the film is merely reflecting Paul's zero-to-hero story and manages to do so with an engaging narrative. As such, Paul's setbacks demand compassion rather than cackles, and his triumphs are worthy of tears. With that said, the film manages to sustain a light-hearted and warm tone, thanks to some very suitable casting.
James Corden gives Paul a vulnerable quality. His lack of self-confidence is a source of frustration for the audience, but they are nevertheless behind him the whole way – hoping for his inevitable breakthrough. Veteran actors Julie Waters and Colm Meaney, meanwhile, give the film a strong British flavour in their roles as Paul's parents. The other noteworthy performance comes from Mackenzie Crook, of Pirates of the Caribbean fame, who plays Paul's manager and best friend. Crook continues where the Pirates franchise left off, offering comic relief every time his character appears on screen.
The real star of the film, however, is Potts himself, whose voice can be heard whenever Corden opens his mouth to sing. These musical moments – and unsurprisingly, there are a few – demand reverence and thus give the film its special ingredient. Whereas there are question marks over the film's narrative, it's difficult to question the raw power of Potts/Corden's operatic solos.
One Chance is in Australian cinemas from 28 November through Roadshow Films.