Based on the novel by Pascal Mercier, Night Train To Lisbon is one of the most moving and finely crafted cinema experiences you will have this year. The story involves a teacher (Jeremy Irons) suddenly abandoning his teaching career after saving a mysterious young woman from suicide. She disappears leaving only her jacket with a book in its pocket and a ticket to Lisbon. Intrigued by the book and mystery surrounding it, he uses the ticket to travel to the titular city and begins a life changing journey of discovery. Recalling the narrative structure of Citizen Kane, the film splits off into two timeframes: the present with the investigation, and the events surrounding the writing of the book by a young doctor during Salazar dictatorship in Portugal.
Directed by two-time Palme D'or winning Danish director Billie August (Pelle The Conquerer), the film is sumptuous in its beautifully textured design of Lisbon and all the places the journey takes the main protagonist. In his ability to convey mood and tone, switching alternatively between the two time frames, August proves himself a great master of the art form. His handling of the material is sensitive and he allows the emotion of his work to flow through naturally, never forcing it as lesser films would.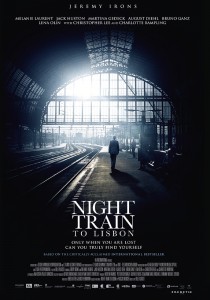 The performances are uniformly flawless; all rich with an all-too rare subtlety. Irons is perfect as usual, giving a commanding but soft spoken performance which will hopefully see him to an Oscar nomination. He is in fine company with Charlotte Rampling, Christopher Lee and Bruno Ganz in key supporting roles, and two of the actors from Inglourious Basterds (Mélanie Laurent and August Diehl) reunite under fascinatingly different circumstances.
The only real flaw in the film comes with making the teacher's friendship with a local optometrist he meets unnecessarily romantic. As well as feeling forced, it adds very little to the film as a whole, especially when the central relationship in the flashbacks is so rich. In a very minor point, the film also indulges whole heartedly in the horrible trope of romantic writer writing on the beach and getting inspiration from the sunset. As a cliché, this needs to end now.
Moving, intelligent and beautiful, Night Train To Lisbon is a mature and extremely well made drama which shouldn't be missed.
Night Train to Lisbon is in Australian cinemas from 5 December through Pinnacle Films.