When it was announced that Ender's Game, the classic science fiction novel written by Orson Scott Card, was being adapted into a film, I quickly acquired a copy and read it. At its crux is a story about Earth's war with an alien race, but its themes – of the justifications, means and emotional burdens of war – are large and complex. And whilst the film, directed and with a screenplay written by Gavin Hood, stays true to the novel's main narratives threads, it does not provide the same level of depth into the main protagonist or the key themes. Nevertheless, the film is still entertaining fare, with some visually stunning cinematography, action sequences and a strong central performance.
The film is set around a hundred years into the future, when Earth has managed to withstand a prolonged attack from the 'Formics', an insect-like alien race. In order to pre-empt future attacks, children are trained to become military tacticians. Andrew "Ender" Wiggin (Asa Butterfield) is a precociously gifted student, and Colonel Graff (Harrison Ford) and Major Gwen Anderson (Viola Davis) believe that Ender may be the leader destined to win the war. At Battle School, Ender is ostracized for both his intelligence and his youth, although some, like Petra Arkanian (Hailee Steinfeld), befriend him. Valentine Wiggin (Abigail Breslin), his loving older sister, and Mazer Rackham (Ben Kingsley), a cunning military strategist and mentor, provide Ender with more support as he tries to cope with the pressure of being Earth's only potential saviour.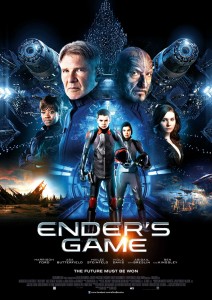 Moving along at an efficient pace the film possesses a striking visual splendour and exciting action sequences. The battle scenes in zero gravity are especially well-executed, and Hood is adept at manoeuvring the camera and finding captivating angles from which to view the action.
But holding all of this together is an impressive performance by Butterfield. He anchors the film with a performance that captures the volatile blend of determination, empathy and ruthlessness that is considered necessary to lead Earth's military fleet. At times, however, the film's action scenes and brisk narrative seem to detract from a more nuanced exploration of Ender's mental state. Overall more time could have been spent on exploring key relationships and fleshing out his efforts to reconcile his emotional turmoil. But Butterfield manages to display his character's immaturity whilst also demonstrating his emotional range. The supporting performances are strong too, with Ford adopting a focussed determination and Davis strong and empathetic.
Overall Ender's Game is a mostly successful adaptation of a complex novel, with striking visual imagery and a solid central performance.
Ender's Game is in Australian cinemas from 5 December through Icon Films.