At the end of the first Hunger Games installment, Katniss (Jennifer Lawrence) and Peeta (Josh Hutcherson) defied the odds to both emerge as winners of the 74th Games. Although feted by audiences in the capital of Panem, their actions within the arena raised the ire of her society's authoritarian leaders, who viewed their defiance against them as a political statement to encourage an uprising in the outer districts.
Catching Fire picks up the story not long after these events, as Katniss and Peeta briefly return home to District 12 before they embark on the customary 'Victory Tour' required of Hunger Games victors. The dilemmas Katniss faces are multiple: she must attempt to assuage President Cornelius Snow (Donald Sutherland) that she is not agitating for revolution, whilst simultaneously not wanting to completely abandon her core beliefs. And what should have been a joyful reunion with childhood friend Gale (Liam Hemsworth) is clouded due to her ongoing publicly staged romance with Peeta, especially since Katniss appears to be developing genuine feelings towards the relationship. A further spanner is thrown into the works when President Snow and returning games-master Plutarch Heavensbee (played be the wonderful as always Phillip Seymour Hoffman) announce some radical alterations to the next Games which forces a number of characters back into the ring to fight till the death once again.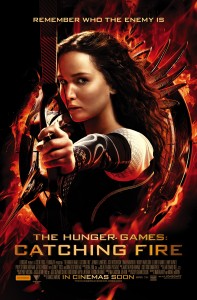 Despite slightly overstaying its welcome with a running length of two and a half hours, Catching Fire is rarely anything less than entertaining and engaging. As was the case with its predecessor,  the film stands as one of the better efforts in terms of cinematic adaptations of popular young adult fictions series. Director Francis Lawrence along with screenwriters Simon Beaufoy and Michael deBruyn do more than an admirable job in bringing Suzanne Collins' source material to the screen. In fact, one could only wish that the creative teams behind other comparable franchises such as the Twilight Series and Harry Potter had adopted a similar approach by striking a balance between remaining faithful to the spirit of the text, while making the occasional minor adjustment to ensure a compelling viewing experience.
But perhaps the lions share of credit of the success of this film should go to Jennifer Lawrence and her portrayal of the protagonist Katniss. As well as a perfect fit for the role, Lawrence does not let her natural attractiveness overshadow the quiet strength and stoicism that she brings to the character. She makes it seem perfectly natural that Katniss can be simultaneously involved in a messy love triangle AND be the active figurehead of a burgeoning revolution.
Eat your heart out Bella Swan (and feel free to let Edward help you with that task).
The Hunger Games: Catching Fire is in Australian cinemas from 21 November through Roadshow Films.