Darlene Love. Lisa Fischer. Merry Clayton. Even if you these names mean absolutely nothing to you, there's a fair chance that you would certainly recognise their voices once you heard them sing. That's because these singers, along with a number of others, have appeared on a dizzying amount of some of the most popular recordings over the past half century, as well as regularly touring with some of pop music's most iconic artists.
However, the fact that they are backing singers means that even though they may play a crucial role in the performance of a given song, the reality is that their contributions often go unheralded or unrecognised altogether. With 20 Feet From Stardom, documentary filmmaker Morgan Neville aims to redress the oversight, giving these performers (most of whom are female African-Americans) credit for their accomplishments as well as some well deserved time in the spotlight.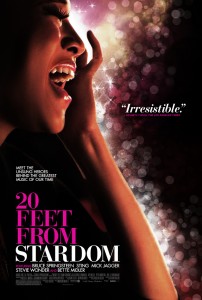 For multiple generations of pop music fans who view this film, there is much pleasure to be derived not only from the unsurprisingly fantastic soundtrack, but also the wealth of rare and unseen archival footage on display which shows the documentary subjects performing and interacting with music luminaries including David Bowie, Ray Charles and Michael Jackson. Also included are interviews with Bruce Springsteen, Mick Jagger, Sting and Stevie Wonder, many of whom have formed long lasting artistic relationships with some of these singers.
And while the focus remains heavily on the venerable backing vocalists who virtually defined popular music throughout the 60s and 70s on both sides of the Atlantic, it does include a segment dedicated to relatively newer up and comer Judith Hill, who was selected to be a part of Michael Jackson's ultimately doomed This Is It tour.
The most intriguing element of the film is its attempts to find some sort of comprehensible answer as to why certain individuals gravitate towards singing background for most of their career, and why many of these artists have failed numerous times to launch solo careers in spite of their formidable technical ability. 'The walk to the front….it's complicated', Springsteen wryly observes in the opening scene, and the film paints a picture which suggests that there are often a range of intangible factors which come into play in terms of a solo vocalist becoming a marketable prospect in the eyes of record labels and their consumers.
Anyone who has remotely been paying attention to pop music from the past 50 years will find something to enjoy in 20 Feet From Stardom, which manages to be an entertaining uplifting and informative cinema experience.
20 Feet From Stardom is in Australian cinemas from 21 November through Transmission Films.