Calling for a rejection of traditional values and advocating innovative experimentation were the Beat Generation, a group of writers who left their mark on the literary and cultural landscape in the 1950s. Indulging in illicit drug use and uninhibited abandon in the name of aesthetic upheaval, writers such as Allen Ginsberg and Jack Kerouac produced seminal literary works such as the poem 'Howl' and the novel 'On the Road', respectively. Kill Your Darlings, directed John Krokidas and with a screenplay by Krokidas and Austin Bunn, focusses on the origins of this movement in the 1940s, and the events which lead them onto the path towards literary recognition.
At the start of the film we are introduced to Allen Ginsberg (Daniel Radcliffe), a shy, budding writer who has just learnt of his acceptance into Columbia University. There, he meets Lucien Carr (Dane DeHaan), an impetuous and fickle student whose disregard for the rules and love for words immediately appeals to Ginsberg. He introduces Allen to Jack Kerouac (Jack Huston), a boisterous writer and footballer, and William S. Burroughs (Ben Foster), who has already had ample experience with alternative lifestyles. Together, they strive to develop their own aesthetic manifesto denouncing tradition and ushering in a new era of artistic innovation, pulling pranks and taking hallucinatory drugs to incite bouts of fevered writing. However, when Carr's relationship with David Kammerer (Michael C. Hall) becomes increasingly tense, events are set in motion which irrevocably change the course of all their lives.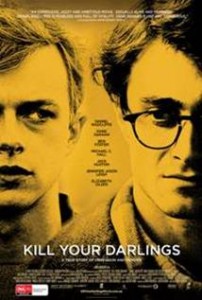 The performances of the two main characters, Ginsberg and Carr, anchor the film. Despite probably not being the first actor who comes to mind when casting for the poet who wrote 'Howl' (and wearing glasses which look startlingly similar to the spectacles he donned in the Harry Potter films), Radcliffe makes his transition from naïve freshman to emboldened adult believable. DeHaan's Carr is a charismatic enigma, whose gaze sparkles with a zest for life and yet betrays a simmering emotional instability beneath the confident veneer. Together, they share a captivating chemistry, and make their unfolding relationship utterly intriguing.
Importantly, given the narrative's basis in historical events, Krokidas does not imbue the film with a sense of predictability. The plot itself is not innovative, but instead of portraying these characters as destined for manifest greatness, he focusses on their youthful, immature idealism, which at times comes across as pretentious, even misguided. Overall, Kill Your Darlings is a fascinating insight into an important chapter in American literary history, capturing the excitement, and danger, that came with being on the cusp of cultural change.
Kill Your Darlings is in Australian cinemas from 21 November through Sony Pictures.