Some characters stay with an actor throughout their careers, making it almost impossible for audiences to see them as anyone else. Tony Soprano and Elaine Benes are two such characters, iconic for different reasons and in very different genres, but characters that none the less hang around for an actor's whole career. It's hard to see James Gandolfini as anything other than the emotionally stunted, hard arse mob boss or Julia Louis-Dreyfus as anyone other than the zany, unfiltered New Yorker type, but Enough Said is a sweet story of middle aged love that makes you forget all the history and just enjoy the journey.
Eva (Louis-Dreyfus) is a masseuse. Self-employed, fiercely independent and coming to terms with her divorce and her daughters impending move to college. Living out the same old client drama and everyday chaos a mundane existence entails. But she's witty and clever and makes the most of it by coming home and veging out with her daughter Ellen (Tracey Fairaway) and her clingy friend Chloe (Tavi Gevinson) living through their teenage crises.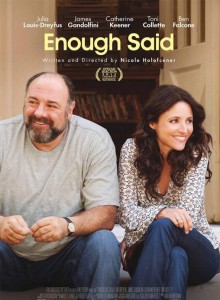 One day her best friend Sarah (Toni Collette) and her husband Will (Ben Falcone) take her to a party. After an awkward introduction she makes the acquaintance of Albert (Gandolfini) who, despite her better judgement, she is strangely attracted to. Unfortunately new client and budding friend Marianne (Catherine Keener) the poet, who constantly says awful things about her oaf of an ex-husband, is talking about Albert. Regular viewers of rom-coms can guess what comes next, however the comedy is charming and the awkwardness of the budding romance irresistibly adorable one can't help but get caught up in the journey.
Toni Collette is a wonderful side-kick on Eva's whirlwind romance, a neurotic psychologist obsessed with her living room furniture arrangement and her housekeeper putting things in weird places when tidying up. She also speaks with an Australian accent, which is becoming refreshingly frequent in Hollywood films of late. Writer/Director Nicole Holofcener has crafted a date movie for audiences of all ages, not isolating like This Is 40; younger audiences will find it endearing and perhaps a little cringe-worthy in parts, with accessible characters Ellen and Tracey reacting appropriately to the awkward knowledge that mum is dating again, older audiences will perhaps relate to the scary new world of dating with years of relationship baggage and the knowledge that love is not necessarily forever. Don't for one second think that the film is cynical about love, this is just a fresh new take on life after divorce now that the D word isn't such a dirty word.
Enough Said is in Australian cinemas from 14 November through 20th Century Fox.