The potentially devastating consequences of keeping wild animals in captivity, for both the animals and their trainers, provides the heartbreaking and engaging framework for co-writer and director Gabrielle Cowperthwaite's expose into Sea World's treatment of killer whales and a series of tragedies that have plagued the organization. Focusing mainly on the plight of the orca Tilikum, Blackfish traces him from his capture and separation from his family, to the inevitable lethal tragedy that instigates the drama of the documentary.
Cowperthwaite wisely focuses on the charismatic former Sea World employee's whose talking head interviews guide us through the story of the film. Intelligent and articulate, they are all deeply passionate people who were all living their dream before the realization of the potential danger they were in dawned on them. After hearing about a series of near misses that occurred at other Sea World facilities, nearly all of them comment to the effect that they stuck it out for as long as they did out of loyalty to the genuine relationships they had formed with the highly intelligent whales. It's this human side of the story that makes for the most compelling parts of the narrative, and it's when it drifts into more familiar documentary techniques that it runs into trouble.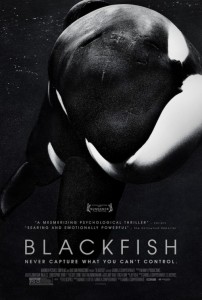 Much like a Michael Moore documentary, the film uses horribly clichéd Sea World promotional videos, complete with real life testimonials of smiling white, middle American nuclear families, to ironically counterpoint the drama unfolding behind the scenes and later in full public display. As a technique, despite its familiarity, it's amusing at first, but becomes tedious in constant repetition.
The film also fails to offer any real counter argument to the issues being explored, and because it remains almost totally one-sided, lacks the complexity necessary to make it truly informative. Although one interviewee takes the opposite (and unpopular) opinion by suggesting that the public display of animals is fine in the right circumstances (he too agrees that Sea World isn't operated within these circumstances), everyone else is adamantly against it. A title card at the end of the film informs us that Sea World declined any involvement with the production, but surely an alternative opinion could have been sourced from somewhere else.
Heartbreaking, intelligent, and finally moving, Blackfish ultimately rises above its few flaws to be a touching documentary that everyone should watch before the next time they head out to see animals being kept in the captivity of their tanks or enclosures.
Blackfish is in Australian cinemas from 21 November through Madman Films.