Love, Sex and Missed Connections is a refreshing comedy about Neal (Kenny Stevenson) who is a thirty-year-old guy who recently broke up with his girlfriend after she cheated on him with Neal's best friend. Neal quits in his job in a moment of enlightenment and with the help of his friends, Neal resorts to the Internet for sex by tricking women into dates.
Just as Neal's plan starts to take off, he meets Jane (Dorien Davies) who is playing the same devious dating game.
The film has won many international film festival awards and it is easy to see why, the screenplay, written by Stevenson in his writing debut, is bright and intelligent. It veers cautiously away from the usual cliché Hollywood comedies about sex-crazed guys seeking women. He sprinkles the script with fast talking dialogue, especially in the scene when he sees Jane for the second time and they are both starting to suspect each other might be playing the same game.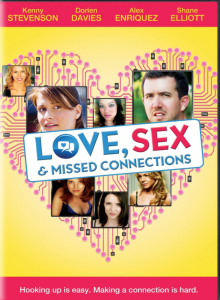 Stevenson plays Neal as a down to earth, average Joe; instead of the usual brooding handsome lead we expect to find in these films. The 'guy friends' (played by Shane Elliot, Alex Enriquez, Abe Smith and Scott Beehner) are also devoid of the usual clichés of horny guys preying on women. Davies plays the Jane with wit and she has fantastic chemistry with Stevenson, as they play cat-and-mouse over the Internet.
This is also the first feature film by director Eric Kissack and his experience as an editor on major releases such as Role Models and Bruno keeps the witty script moving with interesting camera angles and photographs the American suburbs with brightness.
A highly enjoyable independent comedy that turns an otherwise cliché plot into a funny film. The cast is enjoyable and down to earth so the audience can relate to the situations instead of having a sense of disbelief at the usual over-attractive Hollywood leads that dominate the romantic comedy genre.