There's something about the faces of Casey Affleck and Rooney Mara that just keeps you guessing. Maybe it's the former's slightly weary voice or the latter's distant gaze, but either way their presences on screen are certainly unique, making Ain't Them Bodies Saints, written and directed by newcomer David Lowery and nominated for the Grand Jury Prize at this year's Sundance Film Festival, a curious prospect.
It follows Bob and Ruth (Affleck and Mara), a young  down-on-their-luck couple living in '70s Texas. Expecting a child, the pair turn to armed robbery, but it isn't long before the law catches up with them. Barricaded within their meagre homestead, a shoot-out with police ensues, in which fellow outlaw Freddy is killed and Ruth blindly returns fire, in turn injuring local policeman Patrick Wheeler (Ben Foster). Bob admirably takes the blame, imploring Ruth to wait for him as he waits out his 25-to-life prison sentence.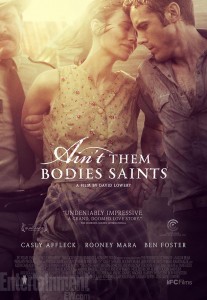 As the years go by in Bob's absence, she finds comfort in the quiet affections of Patrick, who despite their history has developed a fondness for Ruth and her young one. But when a desperate Bob succeeds in escaping, anxious to restart life and meet the daughter the he has never met, Ruth's almost settled life is plunged back into turmoil.
While Bob's letters to Ruth talk of his hope for a nostalgic past waiting for them when they reunite, this Bonnie and Clyde-esque tale always has a downcast air about it. The event of Bob's jailing is depicted briefly as the climax of an elusive history everyone would rather leave be. As such, the events of this film mostly illustrate this small group of individuals trying to salvage some hope from the remaining fragments. With a subtly infused soundtrack from Daniel Hart and stunningly shot by Bradford Young in perpetual half-light, the doomed love story is lent a poetic feel evoking Terrence Malick's work.
Though, while Mallick's elliptical musings could certainly be accused of ladling on the pretension, this is a much more accessible narrative bolstered by a strong set of lead performances from Affleck, Foster and particularly Mara, whose star is certainly growing with each film. It certainly helps that Lowery's dialogue is so natural and unrushed, making the work of these already immensely talented actors all the more engaging.
While this might test the patience of some, the film's modest scope is its strength, not relying on stunts or twists to propel the story but rather a genuine empathy for some good-hearted characters trying to be good people, regardless of what they've done in the past. Hopefully this is a sign of things to come from David lowery, because he seems to be a natural.
Ain't them Bodies Saints will be on limited release from November 14 through Roadshow Films.