Written, directed by and starring Dustin Nguyen of 21 Jump Street fame (the TV series) in the lead role, Once Upon A Time In Vietnam is the latest in a long, long line of epic, martial arts action fantasies, or "Wuxia", that have found their way from all over Asia, in this case the titular country, to our shores. In terms of quality it's certainly not another Crouching Tiger, Hidden Dragon, but it's not as bad some of the direct to DVD rubbish that's surfaced either. Rather, it falls somewhere in the middle, succeeding in a few parts, and failing quite badly in others.
The film begins with an extended prologue that pays homage to the similarly titled Sergio Leone masterpiece Once Upon a Time In The West, with our anti-hero Bao (Nguyen) on the hunt for warriors that have deserted their cause protecting their country from foreign invasion. One such deserter plays a single string instrument as the Warrior looks on – mimicking the scene of Charles Bronson playing the harmonica during Jason Robards's introduction in the Leone film – before all hell breaks loose in a fight scene that sets the tone for the rest of the film.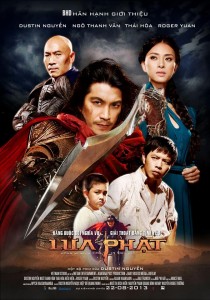 Later with the plot kicking in proper, we find Bao travelling to a small village town where he's tracked down his former girlfriend, Anh (Thanh Van Ngo) who also  deserted the cause, and is now married, leading a peaceful life with her son, and simple husband, Hien (Thai Hoa Tran). Revealing himself to Anh, he gives her a day to say goodbye to her family before extracting her death sentence. All isn't as it seems though, and their relationship becomes even more complicated by a series of revelations and the appearance of a former friend and now enemy of both.  Along the way, there's a subplot about a local gangster trying to get Hien to sell his bakery and running afoul of the whisky drinking Bao, but this only serves to add in some easy laughs and few more fight scenes.
The film's main flaw is that the film doesn't really know what it wants to be. It begins with an over the top martial arts sequence – complete with some poorly executed CGI – that doesn't distinguish itself from the crop of all the others out there, and then becomes an almost post-apocalyptic styled western with an overblown style before finally developing a dramatic love triangle that works surprisingly well. The only problem is that the emotion comes far too late into the proceedings to fully bring the audience back into the story. It also benefits from decent performances, especially from Thai Hoa Tran who brings a raw sense of compassion to his simple husband character.
Also featuring some truly beautiful picturesque imagery, Once Upon A Time In Vietnam is a decent enough movie, it just doesn't live up to the pedigree of its title, being more Once Upon A Time In Mexico than Once Upon a Time In The West.
Once Upon a Time in Vietnam is in Australian cinemas from 17 October through China Lion Films.