"Peter stands for stability, that's the Archbishop. You've got to have law and order. Paul stands for creative chaos. Peter and Paul had a bit of a struggle, and Peter admitted Paul was right for his electorate." – Father Bob McGuire summing up the conflict by referring to the name of his church, St Peter & St Paul
Father Bob McGuire has acquired a reputation for being controversial and incredibly outspoken during his almost four decade run serving his parish in South Melbourne. In Bob We Trust documents his life between 2009 and 2012 when, just shy of his 75th birthday, he is asked to resign and a battle with the church hierarchy ensues. Director Lynn-Maree Milburn follows McGuire throughout this period, capturing every emotion along the way. McGuire was not shy in saying he wanted to stay in his church until he was "carried out" and he is certainly not giving up without a fight.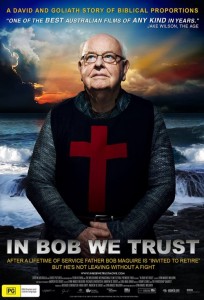 Opening with a montage that brings the audience up to speed with thousands of years of religion, from the Old Testament to present day happenings, in a humorous (think John Safran) yet informative way, we immediately know we're in for a fun ride.
Warm, caring and witty, McGuire never misses a beat. He is an inspiring man who when faced with intimidating and forceful opposition never backs down or compromises his morals. Footage of the priest interspersed with scripted scenes in a satire of Ingmar Bergman's The Seventh Seal (1957) alongside John Safran break up the more emotional moments.
A larger than life character, McGuire is actively involved in community work with Open Family, an organisation that provides outreach support and services to at-risk and homeless young people as well as being president of the Bob McGuire Foundation.  It seems as though McGuire is popular with almost everyone that walks through his church, his extroverted personality warming the hearts of those around him. His enthusiasm and energy are both unforgettable.
Supported by the Melbourne International Film Festival's Premiere Fund and one of the highlights of this year's festival, In Bob We Trust is entertaining and extremely touching. This is a film for everyone, regardless of whether you know much about McGuire or not. A kind and genuine human being with a unique approach to his faith, you don't see or hear about many like him nowadays.
In Bob We Trust is in Australian cinemas from 17 October through Apparition Entertainment.