From writer/director and British rom-com institution (not to mention writer of my favourite all time episode of Doctor Who) Richard Curtis seems to have been somewhat influenced by his short stint on the hit BBC TV show about a time travelling alien with his latest offering About Time posing some interesting questions about time travel and its many advantages/faults. Tim (Domhnall Gleeson) comes from a long line of time travelling men. Not long after he turns 21 his illustrious and infallible father (Bill Nighy) tells him the family secret; all the men in their family can time travel, but only back to points in their own lives and not to the future. There are many "you can't go back and kill Hitler" style jokes thrown in for the time travel buffs, and a fair amount of rules about the consequences of letting the secret out and travelling beyond certain points, but mostly this is a love story, the story about how Tim got Mary (Rachel McAdams).
Tim is essentially a good guy, which means when a friend is in crisis he uses his power to go back and help the friend, erasing the first meeting with Mary completely from his life. Assured that this woman will make his life the happiest it could possibly be, he tries several times to make a good first impression, and then some. The romance is sweet, the progression of their family even sweeter, and cameos from Lord Cutler himself Tom Hollander, brief member of the Misfits crew Joshua Maguire and The Bill regular Richard Cordery as dear old Uncle Desmond make this a truly twee English romance on par with Curtis classics such as Bridget Jones's Diary and Notting Hill, not at all cynical and completely whimsical. There were a number of real out loud laughter moments, but one wouldn't expect less form the absolute king of British Comedy.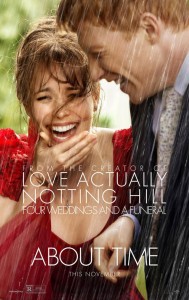 The chemistry between Gleeson and his on screen sister Kit Kat (Lydia Wilson) was warm and indicative of the two having worked together on numerous other projects over the past three years. Wilson was a delight and Gleeson was a real charmer (one could see how he managed to nab Fleur Delacour in the Harry Potter series). McAdams is truly at home in this genre of film and was glowing as the lazily gorgeous catalyst for Tim's time travelling (mis)adventures. And how could anyone forget Bill Nighy, a master of playing the quirky old man who delivers the best fatherly advice in the business, charming and cool as ever.
At the end of the day, it seems cheesy, but other than love, what is there really worth going back in time for? Everything else is icing if you have a happy family and a few good laughs. A real first date winner.
About Time is in Australian cinemas from 17 October through Universal Pictures.