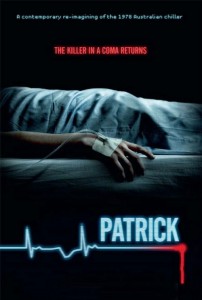 Courtesy of Umbrella Entertainment, Film Blerg is giving away 5 prize packs to celebrate the release of PATRICK, in cinemas from October 17.
The prize pack includes: a double pass to see the film, and a DVD Pack containing the original 1978 version of PATRICK (Richard Franklin), CHILD'S PLAY (Tom Holland), and STAKE LAND (Jim Mickle).
About the film:
DIRECTOR: Mark Hartley (Not Quite Hollywood)
STARRING: Academy Award® nominee Rachel Griffiths, (Brothers & Sisters, Six Feet Under, Muriel's Wedding), Sharni Vinson, (Step Up 3D, Bait 3D, You're Next), Charles Dance (Game Of Thrones, Gosford Park, Alien 3) and Damon Gameau (Save Your Legs!, Underbelly).
After the mysterious disappearance of a nurse at a remote private clinic, Kathy (Sharni Vinson) takes up the  vacant role at 'Roget Clinic', a private hospital for the clinically comatose in a remote seaside town. Kathy is placed under the imperious watch of Matron Cassidy (Rachel Griffiths) and Dr. Sebastian Roget (Charles Dance) a renegade neurologist operating at the fringes of medical Society.
Despite her strong sense of foreboding and the dismal working conditions, Kathy is desperate to take up the post and overlooks the eeriness of the ward and the disturbing patients that reside there. She is soon assigned to care for a mysterious coma patient, who is simply known to staff as Patrick. Before long it becomes apparent that Patrick has telepathic powers and his affections for Kathy turn into a deadly and bloody obsession, letting no one get in his way.
PATRICK TRAILER from Umbrella Entertainment on Vimeo.
How to win:
Visit our Facebook page and hit the "SHARE" button on the PATRICK status.
Write "Win tickets to see remake of the classic Australian thriller PATRICK" in the write something section.
Send your name and address to giveaways@filmblerg.com with PATRICK in the subject.
Competition opens 9am AEST Monday 7th October, 2013 and closes 5pm AEST Sunday 13th October, 2013.
Terms and conditions
Passes are eligible only to Australian residents.
Film Blerg and the Umbrella Entertainment cannot be held accountable for any delay or loss of prizes.
You must follow Film Blerg on Facebook or Twitter to be eligible.
Any information sent remains confidential.