On 3 March 2012, a group of protestors from the all-female punk group Pussy Riot stormed into Cathedral of Christ the Saviour, one of Moscow's holiest sites, to remonstrate against Russia's fine line between church and state. Complete with guitars, a stereo, and colourful balaclavas, the Pussy Riot protestors made global headlines by shouting anti-Putin lyrics at the shocked and highly-sensitive congregants. Three Pussy Riot members were subsequently arrested by the police, charged with blasphemy.
Mike Lerner and Maxim Pozdorovkin's Pokazatelnyy protsess: Istoriya Pussy Riot (a.k.a. Pussy Riot: A Punk Prayer) is the story of Nadezhda Tolokonnikova, Maria Alyokhina, and Yekaterina Samutsevich (i.e. Nadia, Masha, and Katia) – the three women charged. The documentary focuses less on the protest group's motivations, and more on their individual personalities and background stories. Interviews with the parents of the accused give the audience exclusive insights into the womens' life narrative, helping us understand what provoked them to become such provocative figures.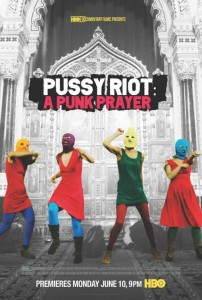 In this regard, the film remains somewhat agnostic about the appropriateness of Pussy Riot's actions, amplifying voices both for and against their Cathedral of Christ the Saviour stunt. The film is more partisan, however, when it comes to the womens' trial, boldly defending their freedoms.
Given the film's focus on the trial, it is no surprise that much of the plot unfolds inside a court room, giving the audience access to video testimonies of the accused. Even more captivating are the scenes of Nadia, Masha, and Katia bantering together inside various courts. Such scenes further personify the accused, characters the Russian media tend to portray as demons.
For those who have been following the Pussy Riot story closely, A Punk Prayer nicely complements existing media reports and commentaries. Those less in touch with Russia's political situation, however, may find the film assumes too much. While the occasional flashback gives context of Russia's history, the interaction between church and state is only briefly explained, while Putin's back story receives even less attention.
As such, the audience is not given enough information to leave the cinema with a firm conviction or judgement, other than to support Pussy Riot's freedoms. Unlike other human-rights-inspired films though, the injustices toward the group fail to bring the audience to fervent anger or action. We know an injustice has taken place, but we're not called to start a picket line anytime soon.
Pussy Riot: A Punk Prayer is in selected Australian cinemas from 10 October through Madman Films.