In no way, shape or form can you consider Formula One racing a safe pastime. At those speeds, nothing is certain, no matter how much skill you've got at the wheel. F1 have cleaned up their act, to be sure, but back in 1976, the season of the extraordinary duel between British playboy James Hunt and Austrian racing legend Niki Lauda and setting for Ron Howard's Rush, safety precautions were a distant consideration in the pursuit of speed.
According to Lauda in real life, talking to The Telegraph earlier this year, it's not quite the same these days. "No. Today, life is different for the racers. Everything is as safe as possible. The last driver to be killed was [Ayrton] Senna, 19 years ago, and the improvements were so big since that. Now nothing ever happens. It's just not the same."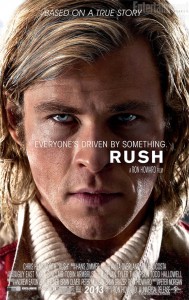 Clearly, F1 wasn't just a sport for them but a lifestyle of living on the edge, and it took a certain kind of person to race 'round in circles' at potentially lethal speeds. The clinical Lauda (Daniel Bruhl) could accept anything up to a 20 percent chance of death each time he raced, but no more. He wanted to be the best and stay there. Hunt (Chris Hemsworth) was perhaps less pragmatic, arrogant in the belief that his skills would guarantee his survival. He was in it for a good time.
Their on-track rivalry is one thing, having first met in the lower division of Formula 3 and driven each other to the height of achievement, the mutual description of 'arsehole' making a lasting impression. However, it is screenwriter Peter Morgan's emphasis on this pairing's polar opposite personalities that makes for a doubly engaging plot: the charismatic and talented Hunt with his indulgence in sex and drugs, as opposed to the calculating, abrasive and anti-social Lauda. Not only their differences are highlighted but also their mutual respect and the way they fed off each other's competitiveness to push further than anyone could on their own.
Of course, F1 nuts will remember this duel for the remarkable events that occurred after the German Grand Prix held at the notorious Nurburgring circuit. These feats are not only central to a remarkable story which extends beyond the boundaries of sporting achievement. They are also staged in spectacular detail, both thrilling and stomach-churning. One suspects a good deal of dramatic licence has been taken, and some of the dialogue can force the issue a little strongly. But solid performances from Hemsworth and Bruhl, with good support from Olivia Wilde, Alexandra Maria Lara and yet another faultless Hans Zimmer soundtrack, make this a thrilling, at times amusing and surprisingly affecting film.
Rush is in Australian cinemas from Thurs 3 October Hopscotch Films.