From the onset of A Beginners Guide To Endings you feel a quirky, slight Tarantino-esque vibe injected by writer/director Jonathan Sobol, in his feature length film debut.  This is the story of five brothers whose lives are dramatically altered following the suicide of their inept and irresponsible father Duke (Harvey Keitel), who couldn't live a day longer knowing the pain he has inflicted onto his children. Nuts (Jason Jones), Cal (Scott Caan) and Cob (Paulo Costanzo) are the eldest, all born from the same mother, while the not-too-bright Juicebox (Jared Keeso) and significantly younger Todd (Siam Yu) were results of Duke cheating on his wife with two other women.
While Duke wasn't particularly close with any of his sons, they all attend his funeral, held by their Uncle Pal (J.K Simmons). After being read his will they learn that the drug testing he subjected them to for a lump sum is slowly poisoning them and they have a few days to live. Time to suspend your disbelief.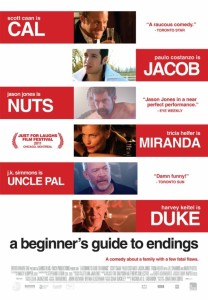 There is nothing like being faced with your own mortality and the brothers all have different ways of handling their impending doom. Nuts trying to shrug it off as if nothing is happening, Cal seeks out old flame Miranda (Tricia Helfer), a woman he knows is nothing but bad news and Cob makes himself a pretty comprehensive bucket list. Todd is definitely the best written character out of the bunch, the adorable Yu stealing the show away from his much older co-stars.
The family unit is at the centre of this film and Sobol sets out to create a happy ending for the characters he has otherwise surrounded with misery. While the performances do have heart, with Simmons as warm and endearing as ever, the ending is very clichéd and offers nothing new. Living life to the fullest as well as the importance of family are the main themes at play here, but it's stuff we've seen before and is all a bit too cute for a film with darker undertones.
A Beginners Guide To Endings looks good, is colourful and sharp, with jump cuts and flashbacks holding audience attention, but when it comes down to it there is little to offer beyond a slight chuckle.
A Beginners Guide to Endings is out on DVD now through Hopscotch Films.