Premiering at last year's Toronto Film Festival, Thanks for Sharing is the directorial debut for filmmaker Stuart Blumberg, the savvy scribbler behind the Oscar nominated The Kids Are Alright and Keeping the Faith.  Following the lives of three men working through three different stages of recovery, Thanks For Sharing focuses on the daily struggle that faces those overwhelmed by sex addiction.
As with his screenplay for The Kids Are Alright, Blumberg's multi-character script is a tightly woven story grounded by its all too realistic characters.  Tim Robbins delivers a strong performance as Mike, the elder statesmen of the support group, who balances the weight of 15 years of sobriety and sex-addiction recovery with a steadfast belief in the 12-step program.  Somewhat of Zen master to the other members of the group, Mike's bottomless reservoir of compassion is put to the test when his estranged son suddenly returns to his life.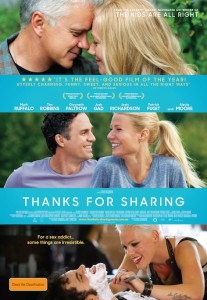 Josh Gad provides a counterbalance to the Buddha-like Robbins, as Neil, a porn-obsessed doctor who is court ordered to attend sex addicts anonymous after groping a woman on the subway.  Where Mike is aware of his disease, Neil is complete denial and spends much of the first half of the film in throws of self-destruction, before hitting bottom when he is fired after a failed attempt to 'up skirt' his female mentor. Resting somewhere between the newbie and veteran is Adam, played by the always exceptional Mark Ruffalo.  Adam is five years into his sobriety and toes the precarious line of recovery with equally obsessive behaviour – removing televisions, Wi-Fi and all connections to procreation from his life.  Adam's sobriety is put to the test though when he falls the alluring Phoebe (Gwyneth Paltrow), whose recent break-up from an alcoholic compels Adam to hide his addiction from his newly discovered dream girl.
As a director, Blumberg does an admirable to job balancing the three tiers of the narrative, wasting little time along the way and showing an aptitude to tell multiple stories befitting a director of vast more experience.  The film's editing is also worthy of note, as Anne McCabe juxtaposes the characters' experiences into a seamless story about recovery.
A film about friendship and the intrinsic need for support when faced with recovery, Thanks For Sharing treads similar territory to Steve McQueen's Shame, albeit through a lighter lens.  At once funny, tragic and all the while realistic Thanks For Sharing is a solid first outing for Blumberg as a director with all cast members firing on an already manicured script.
Thanks for Sharing is in Australian cinemas from 3 October through Transmission Films.