A good deal of biographical work these days, whether it be written for screen or print, seems to devalue what can be a very engaging genre. Like the 15-year old boy wonder who releases a memoir of his 15 minutes of fame or the latest retired cricketer who sees the pen as a fitting substitute for the baggy green. Not only are they often quite self-serving, they also don't contribute much to anyone's perception of the world. To make a profound impression, a biography or documentary needs to offer a genuine revelatory insight or perhaps propose a question. Otherwise it's just noise. This is the challenge Sarah Polley faces with Stories We Tell, a documentary centred on the life of her mother, Canadian actress Diane Polley, who died when Sarah was 11.
Novelist Gary Disher says, "Any story that starts with a question generates immediate suspense," and this is exactly what Polley does. Who was Diane Polley truly? It is a simple enough question on the surface and one which elicits assured responses from everyone who ever met or loved her. The suspense comes with the thoughtful direction of Polley, who – without questioning anyone's honesty — refuses to take history as rote, instead investigating the relationship between memory and truth in storytelling.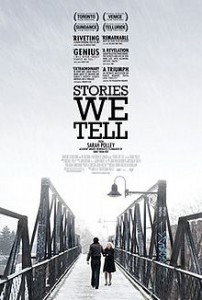 As each isolated character from the story is introduced fidgeting from discomfort in front of the camera, a disarming set-up gives way to a gentle interrogation. Accounts of Diane, whether from her husband Michael or children or other close friends, don't necessarily paint pictures of different people, but they do provide contrasting details, perspectives and assumptions as to what drove Diane and why she was the way she was. Whose judge of character is the most truthful is impossible to say, and ultimately more questions are raised than answered. It seems that no matter how many people you ask to tell a story, retelling history is largely a subjective exercise relative to your place in it.
Responding to the central question, Stories We Tell plays out like a mystery as Polley gradually patches together a portrait, blending archival footage with re-enactments to further blur the distinction between truth and fiction. And while she looks for a more complete truth by collating the accounts of many, her endeavour is itself partly flawed; it is her father, Michael, who points out that in the end what we get from this film is just another story to add to the existing multitude, subject to its own conscious omissions, inclusions, emphasis, and dramatic effects.
This isn't to say her carefully layered narrative is any less valid. A tactful, heartfelt reflection on a larger than life character, this is at various times intriguing, comical, challenging, amusing, contemplative, touching, and overall thoroughly rewarding.
PS. Listen out for the Richmond Tigers theme song.
Stories We Tell is out on limited release through Palace Films.