Since her MIFF debut in 2011 with Another Earth, Brit Marling's star has been on the rise. 2011 saw the aspiring writer/actor write two thought provoking genre pieces that have received wide-spread critical acclaim, her latest offering sees her playing corporate spy Sarah who has been assigned to infiltrate an anarchist group in order to identify and stop their behaviours.
Lead by the enigmatic Swede himself, Alexander Skarsgård, the group attack corporations who wilfully harm people in a myriad of ways. Their first target is a pharmaceutical company that knowingly gives patients medication with severely harmful side effects. The group decide to punish them by poisoning the CEOs with the very medicine they prescribe, giving them a taste of their own medicine. The groups aim is to make a statement about the harm being done to the world by irresponsible people, and they don't mind getting their hands dirty. But the aim of the group in its core is to enact change in a broken world that is being destroyed for profit, a message that begins to resonate with Sarah.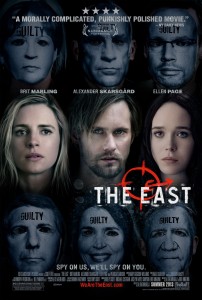 Teaming with righteous narrations from group member Ellen Page, and disturbing found imagery of oil spills and poisoned wildlife, the film has an extremely powerful message co-written and directed by Zal Batmanglij (who worked with Marling on her 2011 thriller Sound of my Voice). The tension is extraordinary and the righteousness of the group is some what overpowered by the pretentiousness of their pseudo-intellectual hippy mantra, but the theme is still extremely well delivered and the message is still just as powerful to the point where audience members left saying "I'm going to go home now to go through my fridge and eat everything before it becomes waste".
Skarsgård is mesmerising as the messiah of the group, preaching togetherness and respect for the Earth, caring for his followers in an almost cult leader type way, alluring yet fatherly. Ellen Page plays her usual witty self, only less hilarious and more angry and indignant. A surprise turn for Toby Kebbell, most notably known as Johnny Quid in RocknRolla, playing an aspiring Doctor whose life was effectively terminated when the medicine he prescribed himself to fight malaria in Africa rendered him unable to control his body movements.
A thought provoking film that may make you want to save the world, but will certainly make you aware of the danger around us and the harm we do to our own environment.
The East is in Australian cinemas from 19 September through 20th Century Fox.