This delightfully light and raunchy comedy follows Joserra (Javier Camara), Ulloa (Raul Arevalo) and Fajas (Carlos Areces), three incredibly fabulous and loud flight attendants trying to remain calm when a technical failure on their flight to Mexico City endangers the lives of everyone on board. Joined by a vast array of characters, including famous dominatrix Norma (Cecilia Roth), the mysterious Infante (Jose Maria Yazpik) and virginal psychic Bruna (Lola Duenas), they are in store for a life changing experience.
Pedro Almodovar (The Skin I Live In, All About My Mother) steers away from the darker tones of his more recent films to a much more goofy and flamboyant tale. Well known for his authorship, Almodovar's signature style is identifiable from the opening credits. We're instantly presented with a rainbow of bright shades, pulling us into his world of colourful sets that complement his funny, energetic and chaotic screenplay. The richness of the colour onscreen separates the world Almodovar presents from reality, isolating the characters in their own dimension, and its use is very reminiscent of films of the French New Wave, particularly Jacques Demi's Umbrellas of Cherbourg (1964) and Jean-Luc Godard's A Woman Is A Woman (1961).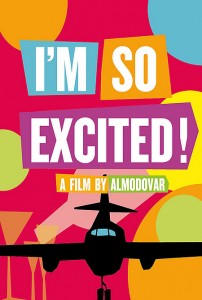 Carried by the superb and nuanced performances of the crew, stand out moments include awkward conversations regarding the sexuality of almost all the central characters, Bruna finally losing her virginity to an unconscious passenger and the fully choreographed scene of the Joserra, Ulloa and Fajas miming to the Pointer Sisters song in which the film gets its English title. Penelope Cruz and Antonio Banderas also play brief but important roles as a couple whose behaviour impacts the lives of all on board the flight.
Some of the humour is undoubtedly lost in translation, but it's not to any huge detriment. The main critique of I'm So Excited thus far is that it follows the same trajectory as the crippled plane in which the film is set; circles and circles without actually going anywhere. However by simply reclining your chair, snacking on a bag of peanuts and not the film too seriously you will be able to sit back and enjoy the tomfoolery that makes it so pleasant and enjoyable.
I"m So Excited is in Australian cinemas from 19 September through Transmission Films.