Back on French celluloid after his stint in the US with The We and I and the clearly 'one for the studio' film The Green Hornet, director Michel Gondry returns to the big screen with the charm-packed, daydream of a film Mood Indigo.
An (other) adaptation of the 1947 novel Froth on the Daydream, the story of Mood Indigo follows Colin (Roman Duris), a well-off, eternal hipster as he spends his day jaunting around his nostalgia-filled Parisian apartment, dancing to Duke Ellington tunes, while he ping-pongs witticisms back-and-forth with his attorney, confidant and live-in chef, Nicolas (Omar Sy), who prepares exotic claymation meals for Colin and his Jean-Paul Sartre obsessed friend Chick (Gad Elmaleh) to enjoy over fantastical cocktails.
At a friend's birthday party, Colin is introduced to the too-adorable-for-words Chloe (Audrey Tatou) a fey facsimile of her character in Amelie.  The two instantly fall head-over-heals for one another and a whimsical courtship as only Gondry can paint ensues.  The vast majority of the narrative is taken up by the charm fueled love affair, until, unexpectedly, Chloe discovers a water lily growing in her lungs and the film takes on a darker tone altogether.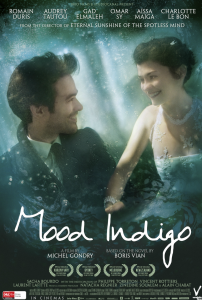 As you might expect, the surreal nature of this film is right up Gondry's alley.  The film is packed to the rafters with stop motion and in-camera effects, satisfying even the most ravished of the director's fans.  There are some truly beautiful scenes created by Gondry, who, for the most part, manages to toe the fine line between quirky and indulgence that some of his films have lacked.  Indeed, the darker third-act of the picture showcases a more melancholic side of the director's talent not seen since Eternal Sunshine of the Spotless Mind.
The original cut of this film ran an expensive 130 minutes and was cut back by Canal + to appeal to a larger international audience.  Unfortunately, a majority of the incisions were made to the gloomy third act, which worked perfectly as a ballast for Gondry's excessive tinkering with animated toys and dancing alarm clocks.
For the most part, the original cut of the film played out like a somewhat magical, sometimes beautiful poem, with the narrative taking a back seat to the overall mood of the film.  This new release seems more concerned with the story of the two lovers, rather than the punch-dunk feeling of being in love.  Without a doubt, Mood Indigo is one of Gondry's best offerings to date, especially if you can get your hands on its original draft.
Mood Indigo is in Australian cinemas from 12 September through Vendetta Films.