Being a Woody Allen fan is a little like being a gambling addict.  You find yourself sitting through all the bad movies in hope of a favourable fall of the dice.  Sometimes the reward is modest, you go home with a smile, as is with the case with Midnight in Paris, Sweet and Lowdown and Mighty Aphrodite and you find yourself telling skeptical friends, 'See, I told you, he's still got,' all the while trying to forget those darker days of Curse of the Jade Scorpion and Cassandra's Dream.  In this way, Allen's films swing back-and-forth, year-to-year, decade-to-decade, some good, some bad, but always, always, in the back of your mind you're hoping for that elusive masterpiece. Those few immeasurable films that transcend his persona, nostalgia, or his telltale style, and can only be called great.  Along with Crimes and Misdemeanors, Hannah and Her Sisters, Match Point and a few along the way, the director's latest offering, Blue Jasmine deservedly joins the shortlist.
Cate Blanchett plays the title role of Jasmine; a contemporary Blanche DuBois of sorts, whose refinement and air of pretension thinly masks her emotional downward spiral and growing alcoholism.  Left penniless after her husband Hal (Alec Baldwin), has recently been incarcerated for a Bernie Madoff-esque ponzi scheme, Jasmine seeks refuge with her working-class, half sister Ginger (Sally Hawkins) in downtown San Francisco.  The back-story of Jasmine her relationship with Hal is told in series flashbacks against Jasmine's naive attempts to restart her life, albeit further down the economic food chain than she's accustomed to.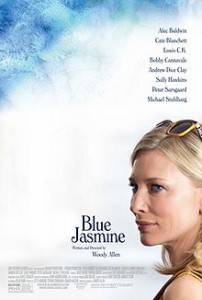 Like countless Woody Allen movies before, the casting in Blue Jasmine is outstanding.  Everyone in this film puts their best foot forward to create an enthralling retelling of Tennessee Williams' original story.  As we've become accustomed over the last decade, Cate Blanchett seems effortless as Jasmine, playing the exhausting menu of crying, ranting, delusion and hysterics with seemingly little difficulty.  Without a doubt, in the hands of a lesser actor the film would be playing on daytime television rather than receiving the early Oscar whispers the role is deservedly getting.  While Blanchett is undoubtedly great in this already great film, it is the role of her brother-in-law that all but steals the show.  Despite being in the film for only a handful of scenes, Andrew Dice Clay transcends what would normally be a one-dimensional role into something else entirely.  His energy and commitment leave a fist print on the celluloid that is worth the price of admission alone.  Similarly, Bobby Cannavale is terrific as Jasmine's would-be new brother-in-law, Chili, playing the split between dim-witted and intense honestly with the crude authenticity of a reality show star.
I can't go on enough about the acting in Blue Jasmine; it manages to capture that rarity in Woody Allen pictures, where the fingerprints of the director are all but invisible. Sure, there are undeniable jokes in the film that couldn't come from anyone else, but all the actors on-board seem to have taken an all-ready solid script and taken it somewhere else entirely. With a stunning aesthetic look, the film has been put together in a beautiful fashion and should absolutely not be missed.
Blue Jasmine is in Australian cinemas through Hopscotch Films.