When news networks report about the Israeli-Palestinian conflict, the deep complexities of the issues are rarely explored. The conflict is often presented in binaries: good and bad; terrorists and victims; Judaism and Islam. Dror Moreh's documentary The Gatekeepers takes us beyond the black and white layers, revealing to the audience many shades of grey.
The Gatekeepers title refers to six former heads of Israel's secret service Shin Bet, so-called because of their capacity to decide who comes in and out of Israel's territory. For the first time on film, each of these military men reveals a different take on the ongoing conflict and the events that transpired under their leadership.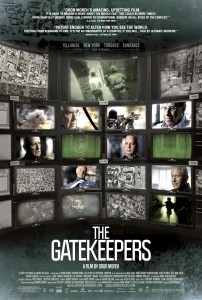 On face value, a film about Israel told from the perspective of Israelis might not sound too appealing to your typical leftie. Contrary to this presumption though, hearing the voices of a group so often categorised as the enemy is deeply insightful. Indeed, the interviewees are surprisingly reflective, offering perspectives and concessions one wouldn't expect to hear from such individuals. Among many things, they are candid about their views on morality, internal strategy decisions, and the terrorist-freedom fighter paradigm. As such, the one-sided dialogue doesn't compromise the weight of the Palestinian viewpoint.
Moreh interrupts these interviews with real war footage and CGI sequences. Some of the footage is intensely graphic and disturbing, thus helping the audience understand the messy domestic context on a much tangible level. The sophisticated CGI animations, meanwhile, provide context to a number of historical images, taking audiences right into the battlefield.
While The Gatekeepers is a powerful documentary, it's nevertheless quite a niche film. Even for politically engaged audiences, the film sometimes suffers from being too detailed. There's no question that it's brilliant journalism, but it's important to acknowledge that brilliant journalism doesn't appeal to everybody.
With that said, captive audiences will love this, not just because of Moreh's engrossing filmmaking but for the perspectives they are likely to learn along the way.
The Gatekeepers is in Australian cinemas from 5 September through Madman Films.