Park Chan-wook, arguably most well-known for directing revenge thriller Oldboy, debuts his first English-language film with Stoker, written by Wentworth Miller. Imbued with a mysterious undercurrent and filled with memorable images the film is certainly a visually immersive experience with strong performances all around, but the film's slow pacing and slightly disjointed editing prevent the film from being a more cohesive whole and making a stronger impact at its crescendo.
India Stoker (Mia Wasikowska) is mourning the sudden death of her father in a car accident, with whom she shared a close bond with. Her relationship with her emotionally unstable mother Evelyn (Nicole Kidman), on the other hand, could be described as distant at best. Their grief is interrupted by the unexpected appearance of Uncle Charlie (Matthew Goode), a charming, mysterious man whose existence India has only just learned about. When he decides to stay with them indefinitely in their isolated, countryside manor, India resists his attempts to forge a warmer relationship. Something with Uncle Charlie just does not seem right, and Aunty "Gin" (Jacki Weaver) arrives to further lend to the aura of foreboding. Inevitably, the details behind Uncle Charlie's enigmatic past and suspicious presence are revealed.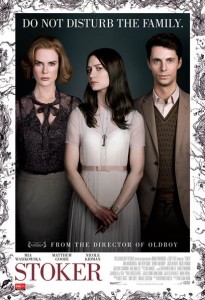 There is an undeniable visual flair to this film. Beginning with the dreamy opening sequence and the slightly askew camera angles, and continuing with the film's pervasive pale colour palette, Chan-wook effectively uses images to help create an eerie, unsettling mood.
The performances, too, are compelling. Kidman evokes a range of emotions in bringing Evelyn to life, from forced, obligatory cheerfulness to barely constrained rage, and Goode's understated charm, manners and almost vacant smile seem to constantly arouse suspicion. Weaver also brings a palpable, yet somehow restrained, dread to her brief appearance. But it is Wasikowska who carries the film. Her character's seemingly impenetrable exterior and petulant disposition could have been portrayed as monotonous and one-dimensional in the hands of a less-mature young actress, but she is acutely aware of the importance of providing small glimpses into India's inner world – a brief, longing glance here, a moment of vulnerability there. It is her performance that draws us into the film's unnerving atmosphere, and keeps us invested there.
However, where the film feels slightly disjointed is in its editing, especially in the film's early stages. At times scenes did not flow as smoothly into each other as they could, and so by the time the film's climax is reached, and the big reveal is made, the impact is somehow less than expected. Nevertheless, Stoker provides Chan-wook with another opportunity to create a visually atmospheric film, and is a fine introduction to his work for English-speaking audiences.
Stoker is in Australian cinemas from 29 August through 20th Century Fox.