Steve Jobs is widely regarded as a visionary who left a long shadow over the world of technology and profoundly affected the way we live our lives today. He was the kind of man whose word was gospel and who received standing ovations when he walked into a room with new ideas. But how much does anybody really know about the man? Outside of the invention of putting lowercase I's at the beginning of things, not that much.
Beginning with his time floating around classes at university without shoes, scoring acid and hanging out fields of long dead grass and moving on to his time "revolutionising" game play at Atari. Steve Jobs was always driven, but in the beginning, it was simply to create something where he could be his own boss.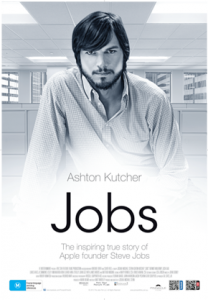 Joshua Michael Stern's Jobs holds no punches when presenting the rise of the apple visionary, from cutting his fellow founders out of shares in the company to refusing to acknowledge the existence of his illegitimate daughter, to be honest, it's refreshing to see a point of view that doesn't grovel at the feet of one of the richest men in the world. But the film is also sympathetic to the man whose vision was so set and his drive to revolutionise the world of personal technology so strong that he got brutally cut out of his own company by a board whose vision extended no further than the bottom line.
Ashton Kutcher is a revelation in the titular role, his performance is subtle and nuanced, a major divide from the usual, manic performances he delivers. He has the awkward, stilted, hunched swagger down to a fine art. It is bizarre to think that this is the same actor who played Kelso in That 70s Show, but after about 5 minutes, Kelso is the furthest thing from your mind. What you have is an insight into the evolution of the worlds most valuable company from a grass roots operation in the Jobs family garage in Palo Alto California to a multi-national conglomerate. The supporting cast are strong but unremarkable compared to Kutcher, particularly as only tech nerds would know anything about these characters before going into the film.
Jobs is in Australian cinemas from 29 August through Pinnacle Films.