"We have protected the world from evil for centuries." It's a big call. Hollywood's all about the big calls. More often than not, by 'the world', they mean New York. But hey, close enough.
Such is the case again in The Mortal Instruments: City of Bones, directed by Harald Zwart, regarding a group of people called the 'Shadowhunters'.  Based on the bestselling books by Cassandra Clare and adapted to screen by Jessica Postigo, the story depicts a fantasy flipside of New York called Downworld, where Shadowhunters battle demons, and wizards, werewolves and vampires coexist (not zombies though).
Clary (Lily Collins) comes from a line of Shadowhunters, but her mother, Jocelyn (Lena Headey), has tried to protect her from discovering this so that she might live a 'mundane' (Downworld speak for 'muggle') life like everyone else. However, when Jocelyn disappears, Clary stumbles upon a dangerous and cutthroat world she never knew existed.  She is left to team up with a Shadowhunter called Jace (Jamie Campbell Bower) to get to the bottom of an increasingly murky situation full of conflicting interests.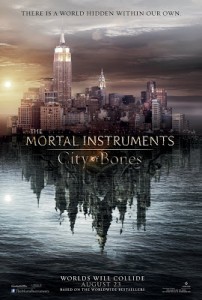 This in no way made me want to read the books, but I can't say it wasn't entertaining. Well, to a point and not always in a good way.
There is the expected dose of sexual tension between the leading trio, Collins, Bower and Robert Sheehan (who plays 'mundane' Simon), who are actually a mildly engaging bunch. There's also a lot of action. And there's a nice game you can play, picking which movies it draws inspiration from. Personally, I counted Lord of the Rings, The Matrix, Harry Potter, Star Wars, Twilight, Buffy and a few others. Admittedly, that last attribute isn't flattering, but Mortal Instruments uses it all in good humour with scattered laughs, some refreshingly self-mocking. And for the wealth of daftness that Jace exudes, he does have a few good one-liners so kudos to Postigo for that. *thumbs up*
However, it's not so self-mocking that we can't mock it even more ourselves, and there is certainly ample opportunity to do just that. You might launch forward and guffaw, you might squirm and mumble 'gawd', maybe a dismissing scoff, or even a spluttered cough (sorry about the rhyming). To demonstrate, a-wooing sessions in flowering greenhouses may be effective but they are cinematically cringe-worthy, let alone when the sprinklers come on. Even more disheartening is the sight of a guy wearing a jacket and jocks combo in a nightclub. I guess you're allowed a bit of leeway if you've been protecting the world for centuries. But seriously. Not cool. Put some pants on. At these moments, not so kudos to anyone involved, and a ringing confirmation of this film being a bit of a turkey. *thumbs down*
The Mortal Instruments: City of Bones will be in Australian cinemas from August 22 through Roadshow Films.